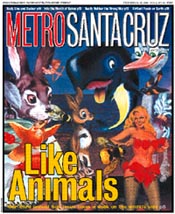 For the Week of
February 12-18, 1998
Cover: Like Animals
Birds do it, bees do it, even Bill Clinton does it. A few words on the absurdity of mating.
Hook, Line and Sucker: Men still may be on top financially, but when it comes to phone sex, female fantasy operators say they're in control.
Into the Mouths of Babes: A loud and lusty public give-and-take on oral sex is blowin' in the wind.
Really Rubber the Wrong Way: In spite of clever marketing, condom manufacturers just can't make those rubbers romantic.
Dirtiest Foods on Earth: Food and sex have been willing and universal bedfellows since the glistening opening of history.



Notes From the Underground: Even gutter punks get the urge toward fashion and frolic.



Night Howl: Comedic sketch duo blends lesbian politics with satiric shtick.



Would He Woodpecker?: Feminist cartoonist John Grimes muses on Woody Allen's latest film, Deconstructing Harry, and the president's latest thorn, Monica Lewinsky.
The Randyman: Nick Nolte comes on real sexy in Afterglow.