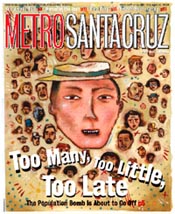 For the Week of
February 19-25, 1998
Cover: Too Many, Too Little, Too Late
The Population Bomb is about to go off.
Our Amy Is True: One woman's quest to discover all the people sharing her good name.



Buried in the Past: Spike Lee's HBO special bores in on a 1963 racial tragedy.
Night Howl: Former East Coasters pay tribute to the Garden State and a cappella music.



Blind Fury: Third Eye Blind's Stephan Jenkins has a bone to pick with everyone.
Notes From the Underground: Two impressed takes on IUMA's local music extravaganza.



Smash-Mouth Dining: Christina Waters' recent encounter with a crashed 70-foot coastal cypress left her surgically challenged but not gastronomically unprepared.