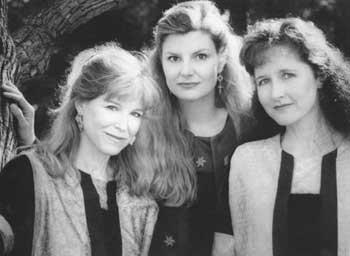 The Three Sopranos: Voxfire get ready to rebirth the baroque.

Baroque Before They Fixed It

New festival program explores earlier, less ornate period

By Scott MacClelland

In savoring the complex contrapuntal masterpieces of Bach, Vivaldi and Handel, it's easy to forget that the baroque style itself began simply, as a reaction to an overwrought, often-dense style of the late Renaissance. Works that laid the foundation of this new style will be part of the next Santa Cruz Baroque Festival program, Birth of the Baroque, for which music director Linda Burman-Hall will introduce three exceptionally accomplished sopranos who perform as Voxfire.

Credit for this sea change in Western music at the end of the 16th century goes to the Florentine Camerata, a society of intellectuals, musicians, artists and philosophers that gathered, for the better part of two decades, at the palazzo of Count Giovanni de Bardi to discuss and criticize contemporary art and music. "Their main complaint," says Burman-Hall, "was an overuse of polyphony. In the contemporary world of madrigals and motets, the texts had been increasingly sacrificed to the musical texture."

Each singer in a madrigal ensemble sang the same words but, by the dictates of the musical settings, offset them, one line from the next, all but preventing the listener from understanding them. Moreover, if any one singer decided to inflect the words with individual expression (pace, phrase, dynamics), the musical texture would fall apart. "The Camerata believed it to be necessary that music stand second to text and convey an emotional state into the mind of the audience, so they would catch it, and get it," says Burman-Hall. "The emotional needs of the text was more important than anything else." By way of further emphasis, she adds, "They believed that improving music this way would improve society."

In practical terms, that meant individual melodies over simple chordal accompaniments. This allowed the singer to declaim the words clearly and with great passion--the Greek ideal as it was articulated at the time by Camerata member and historian, Girolamo Mei.

This, more than anything else, marks the birth of the baroque style. Voxfire's program selects from those early practitioners, with simple instrumental accompaniment to works featuring one, two and three voices. These include settings by Giulio Caccini, one of the original Camerata members, Luzzascho Luzzaschi and Barbara Strozzi (daughter of another Camerata member), plus such giants of the early baroque as Claudio Monteverdi, Sigismondo D'India and, in England, William Cornyshe.

Then, by including the late 17th-century English master Henry Purcell, the program ties what had been experimental a century earlier into the high baroque of the early 18th century, the era of Bach, Handel, et al. An adaptation, with interpolations, of John Blow's Venus and Adonis will round out the program. Following the concert, there are plans for a hands-on petting zoo of baroque lutes and guitars.
---
Santa Cruz Baroque Festival, 'The Birth of the Baroque': Voxfire performs with Nina Treadwell and Linda Burman-Hall on Friday Feb. 24 at 8pm at UCSC Recital Hall. Preconcert talk at 7:30pm. $25/$2; www.scbaroque.org
---
[ Santa Cruz | Metroactive Central | Archives ]