Vote Here!
Cast your ballot in the 2006 Goldies Readers Poll.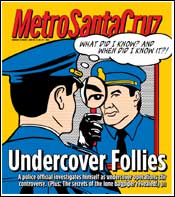 For the Week of
February 22-March 1, 2006
Cover Story: Undercover Follies:
A police official investigates himself as undercover operations stir controversy. (Plus: The secrets of the lone bagpiper revealed!)
Magic Bus: Pajaro Valley to introduce California's first biodiesel school bus program.
Nüz: Where Is the Love?



Rev: Yellow Belly.



Corpse Ride: Tommy Lee Jones' 'The Three Burials of Melquiades Estrada' is more than just a Tex-Mex version of 'Weekend at Bernie's.'



Blues Legend Seeks Dance Hall: Charlie Musselwhite turns it back up to 11.
Baroque Before They Fixed It: New festival program explores earlier, less ornate period.
Müz: Fears of a Clown.



Scoping Out Mencken: From Baltimore bars to the Scopes Monkey Trial, a new biography tracks the jabs and jests of journalist H.L. Mencken.



The Fresh Princess: Jody Lombardo makes the previously problematic art of meal assembly easy at Fresh Prep Kitchens.
Copyright © Metro Publishing Inc. Maintained by Boulevards New Media.