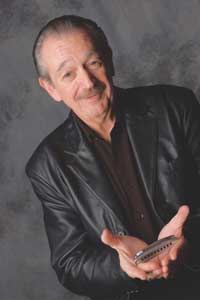 Ace of Harps: After his dark and moody Real World label debut, Musselwhite has gone back to rocking the blues.

Blues Legend Seeks Dance Hall

Charlie Musselwhite turns it back up to 11

By Paul Davis

After over four decades as a blues harmonica legend and forays into various musical styles--from Americana and country to Brazilian and Latin collaborations with musicians like Cuba's Quarteto Patria-- Charlie Musselwhite had only one place to go--turning his band's amps back up and putting out a rocking blues record.

Following the spare and dark Sanctuary, Musselwhite's new album Delta Hardware is more a return to the rootsy blues and rock & roll sound for which he is known. Where his past album boasted appearances by musicians such as the Blind Boys of Alabama and Ben Harper, Delta Hardware favors a more stripped down approach, focusing on Musselwhite and his four-piece band. "This one is based all around the guitar ... where the last one was more moody, this one is just me and my band," he says. In fact, one track features Musselwhite playing the guitar himself.

Musselwhite's second release on Peter Gabriel's Real World label, this album seems like even more of a departure for an imprint that primarily focuses on world music. Musselwhite says Real World's interest arose through an organic connection with the Blind Boys of Alabama: "I've known the Blind Boys for a long time; we crossed paths playing musical festivals and I became friends with the guys in the group. My producer on the last album had also worked on the Blind Boys record, which was on the Real World label." Still, Real World's interest came as somewhat of a surprise. "They're very particular and picky, and they didn't have any blues people."

Undeniably prolific, Musselwhite has released 20 albums and lent his harmonica talents to countless others, appearing on albums by John Lee Hooker, Bonnie Raitt, the Blind Boys of Alabama, Tom Waits and many others. It's the culmination of a well-trodden path that began in Memphis, where Musselwhite came of age in the burgeoning rockabilly scene that saw Elvis Presley and Jerry Lee Lewis rise to stardom. Moving to Chicago in 1962 in search of work, Musselwhite soon found himself in the midst of a gritty and unglamorous blues scene that in time would become legendary.

After making a name for himself in the South Side Chicago blues scene of the mid-'60s, where he played alongside such greats as Muddy Waters, John Lee Hooker and Howlin' Wolf, Musselwhite relocated to California by chance and hasn't left to this day. "I like to say that I lived 25 years in the five years I lived [in Chicago]," he says. "I was offered a whole month of work in California, and 10 minutes after I got off the plane I realized I was never going back." Once in California, Musselwhite was embraced by the burgeoning San Francisco hippie and folk scene, which imbued his gritty past with an aura of authenticity missing from the scene at the time.

Now residing in Sonoma County, Musselwhite says that, in spite of the opportunity to play alongside Chicago's blues greats, he has never regretted his move. "California had lots of gigs to play--Chicago was rough, lots of small blues bars. When I went to California there was sun and love and hippies, and I knew that I wasn't going back."

The West Coast has treated Musselwhite well, becoming a second home to the harmonica virtuoso. After numerous appearances at the Monterey Blues Festival that culminated in a Lifetime Achievement Award, one might expect him to rest on his laurels and go for the easy gigs. But as Musselwhite embarks on his latest world tour, he retains a workmanlike approach to touring.

Even after four decades on the road, Musselwhite insists that the oft-maligned grind of touring hasn't gotten to him. "Traveling can be wearing and tedious, but it's what I do," says Musselwhite. "I play for free--I tell my audience that they're paying me to get where they are." Unlike many road-weary performers, Musselwhite still views a show as an opportunity to throw a good party among close friends. "Basically, all these people can't come to my house, so they pay me to go to theirs."

In this spirit of throwing a good-old-time dance party, Musselwhite is clear about his intentions for his Santa Cruz performance. "Tell everybody to come early and stay late," he says, "and bring their dancing shoes. We're going to have a hell of a good time."
---
Charlie Musselwhite plays Friday, Feb. 24, 9:30pm, $15 adv/ $20 door, at Moe's Alley, 1535 Commercial Way, Santa Cruz; 831.479.1854.
---
[ Santa Cruz | Metroactive Central | Archives ]