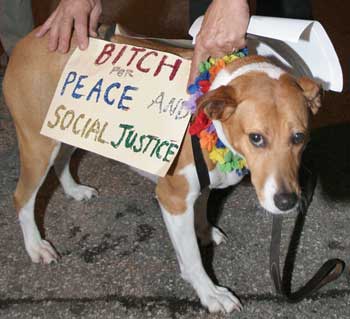 Photograph by Bob Fitch

Pet on Parade: Innocent animal or sophisticated delivery system for weapons of mass destruction? Only his undercover informants know for sure.

Undercover Follies

A Santa Cruz police official investigates himself after undercover operations stir up controversy

By Sarah Phelan

It's not every day you get to watch as a deputy chief of police interviews an underground activist. It's even more unusual to see the deputy chief investigating why said activist was spied upon, when the idea to spy on the activist came ... from the deputy chief himself.

That's exactly what happened earlier this month when Santa Cruz Deputy Chief of Police Kevin Vogel interviewed Felton resident and underground activist Wesley Allen Modes as part of an internal affairs investigation into why two SCPD officers infiltrated meetings of the Last Night DIY Parade--an event that Modes helped organize after First Night Santa Cruz folded last fall.

Welcome to Santa Cruz 2006, where a report of Vogel's investigation, which "found no violations of existing departmental policies" but establishes undercover surveillance policy for the police for the first time in Santa Cruz history, just hit the public library. Titled "Last Night DIY Internal Investigation," it's a hefty tome that requires developed biceps to lift all 600 pages simultaneously as well as a stomach for intense detail, much of which reveals more about the officers involved in the spy operation than the group being surveilled. (See "Undercover Oops" sidebar below.)

What's missing from the report is a direct apology from the police--and the identity of the group that actually ended up kicking off the 2005 New Year's Eve parade. (Hint: It wasn't Modes or the rest of the parade planners.)

We mention these omissions in the context of independent police auditor Bob Aaronson denouncing the SCPD's gargantuan report as "incomplete and flawed," in large part because Vogel led the internal affairs investigation.

"Instead of being an investigation, it's more like confession," said Aaronson last week, as he promised a completed supplemental investigation by mid-March.

Acknowledging that "any police department has an obligation to gather information that pertains to public safety," the besuited and bespectacled Aaronson nevertheless maintained that he was "undecided as to the propriety of using undercover officers in this particular instance." He also pointed out that such ops are usually reserved for activities that explicitly violate the law, "like narcotic trafficking or child porn over the Internet," and added that he was troubled that "the SCPD made "broad, untested assumptions about the Last Night DIY organizers as the basis for inserting an undercover team in their midst." Finally, the police auditor addressed the department's contention that they did not violate undercover policy because they don't have one: "Whether there's an existing policy or not doesn't prevent officers from violating law. Policy is what gets filled into the interstices of actual law."

But when the crowd, which had gathered outside City Hall to denounce the SCPD's report, asked what direction his own investigation would take, the seemingly inscrutable Aaronson smiled.

"A good investigation," he said, "is like a motorcycle trip. You don't know where it's going."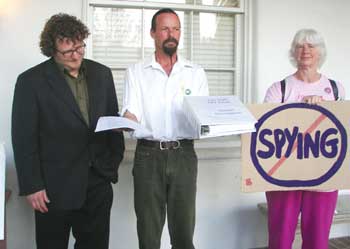 Photograph by Sarah Phelan
Nobody Likes a Spy: Community members gather to promote civil liberties and the braided goatee.
Ride Along
Dressed in work clothes and boots, an impish grin forever lurking at the corners of his mouth, Wesley Modes comes across as a peace-loving wise-ass, though he describes himself as a carpenter and welder, and his police record (now available at the public library as part of the SCPD's report) lists him as a "computer technician."
Arriving at police headquarters at 8am on Feb. 1, Modes asked if this reporter could sit in and listen to his interview. Deputy Vogel said he really wanted to speak to Modes alone and did not want other parties present.
But when Modes indicated he would be more comfortable participating if a reporter was present, noting that whatever was said during the interview would become public information, Vogel agreed and permitted Metro Santa Cruz to stay and observe.
Always polite, but often pointed, Modes kicked off his interview with a question of his own for the deputy chief: Was Vogel, in fact, the one who initiated the undercover ops?
Vogel, neatly dressed in gray shirt, blue tie, slacks and polished black shoes, replied that he raised the idea in an email to Lt. Rudy Escalante, who, according to Vogel, then ran with it.
"I guess you can infer that I directed it, but basically, I just posed the question," said Vogel, who in turn asked Modes how the Last Night DIY Parade unfolded.
"I was not the main organizer," insisted Modes. "A bunch of people had the idea of having a DIY parade to replace First Night. We considered getting permits, but there is a very difficult process."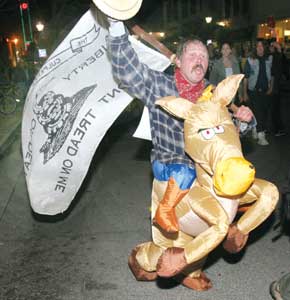 Photograph by Bob Fitch
The Lone Horseman: This unidentified man on horseback was later seen galloping toward a grassy knoll.
Modes recalled how the undercover cops were the first to show up at the initial DIY Parade planning meeting, which had been announced on fliers around town as taking place Oct. 27 at "the big yellow house on Branciforte Avenue."
"They introduced themselves as Tim and Wes," said Modes, recalling how he initially thought, "This is so great! We've attracted some surfer dudes."
In spite of their conspicuously prompt arrival, Modes said he harbored no suspicions about "Tim and Wes" until after their emails bounced back and their phone numbers turned out to be duds. Even then, Modes says "only a very small core of people" suspected they were cops by the time of his third and final encounter with the duo, which occurred Dec. 29 in the Cooper House Breezeway. This was where a photographer, who Modes refused to comment on when asked by Vogel, took pictures that documented the spying.
When Vogel remarked that Modes mentioned the permit process as being cumbersome and expensive, Modes promptly observed, "It was more than that."
"A free speech thing?" asked Vogel.
"Even if the permit process was more streamlined we wouldn't want to go through it," said Modes, noting that the city's permit process requires a $1 million bond along with other fees.
Asked how he would have reacted if the SCPD had reached out, Modes said, "I think we'd have been cooperative--and that the police would have wanted us to deal with the permit process and jump through hoops."
"You'd have welcomed our presence?" asked Vogel.
"A uniformed officer, no. True, it's a public meeting, but we want to freak speely. I mean, speak freely," stumbled Modes.
Asked if the group would have shared information, not necessarily at the meeting, but by email or phone, Modes dodged the question.
"For the record, no one attempted to meet us," he said. "I understand you feel we wouldn't have cooperated, but we wanted to create a community event, and the police are part of the community."
"I'm curious," said Vogel. "If we'd chosen to find the parade illegal, did you have any plans to confront us?"
Modes said the group talked about that in the meeting. "I don't know if that's reflected in your OIC [Officer in Charge] report," said Modes, referring to the fact that some public records still appear to be missing from a FOIA request the ACLU filed with the SCPD in January.
"Cop tamer," said Vogel, his voice getting steely, "was a term that came out from an interview with one of the officers."
Modes opted not to repeat the offending phrase, talking instead about "conflict managers," which was how those who led the Last Night DIY Parade were identified through signs worn over their costumes. He also cited "a drunken yahoo" and "an angry driver" as examples of public safety concerns the parade organizers had.
Vogel then directed the interview back to the undercover operation, asking Modes for his feelings about officer conduct.
"The officers comported themselves well enough," said Modes. "They did as well as they could, given their challenging mission. For me the issue is the conduct of the executive officers who sent them there."
At which point a contrite-sounding Vogel said, "We'll be looking at the whole thing to try and determine why we felt the need to send undercover officers rather than reaching out in a forthright manner."
Asked if it felt odd to be involved in the internal investigation, Vogel said, "No, it doesn't. I feel I'm capable of being fair and impartial. It's fair to say we are considering policy changes."
Admitting that the SCPD didn't have an undercover policy at the time of the DIY Parade surveillance, Vogel stated, "To the best of my knowledge, we're not sending undercover officers to investigate community meetings."
Modes then asked "if the DIY Parade was the only thing important enough to send undercover cops out to--if it was the biggest threat to the city in the last three years." Vogel replied, "No," and proceeded to talk about how New Year's Eve is traditionally one of biggest events downtown, along with Halloween.
"We didn't want a repeat of Halloween, and in 1993 we had a riot on New Year's Eve," said Vogel. "Our officers took bottles and rocks. Several officers were injured, so there was some history."
Noting that the SCPD was not "real forthright, we didn't contact you, you didn't contact us," Vogel talked to Modes about the need in the case of a large parade to plan for traffic control.
Modes replied by asking if the SCPD had had any communications with state or federal agencies.
"Absolutely not," said Vogel.
When this reporter asked for a breakdown of what Modes has cited as the "prohibitive costs" of a permit, Vogel lists a $75 application fee, the $1 million insurance bond, plus the costs of police services, street closures and traffic control.
Using the fact that police overtime runs at $70 an hour, that there's a minimum charge of four hours per officer, and that it would take four to six officers to provide necessary traffic control, Vogel estimated that just the police services portion of a New Year's Eve parade permit would cost $1,200-$1,800.
At which point, Modes added that permit-seeking paraders would also have to pay the city for lost revenue from parking meters, plus $1 for each "No Parking" sign and $5 for each street barrier.
"Permits are expensive," allowed Vogel.
With the official interview over, and his tape recorder switched off, Vogel recalled how he drove down Pacific Avenue on New Year's Eve in an unmarked car at 5:30pm--a moment in time when all the stilt-walking, bicycle-riding, porn-clowning DIY paraders were still assembling behind the Saturn Café.
"People were lined up," said Vogel of Pacific Avenue at sunset."They were sitting on planter boxes, asking, 'When is the parade going to start?' People were excited. The event is beneficial to community, but City Council has set the permit process to plan safely, and we want to be involved in the planning."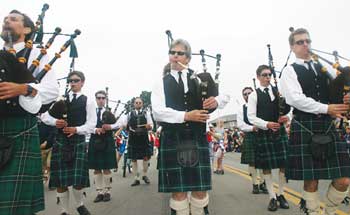 You're Never Alone With a Bagpipe: Although left out of the police investigation, Santa Cruz Pipe and Drum played a key role in the unsanctioned event.
Jolly Pipers on Parade
As the uproar over the SCPD's surveillance of Last Night DIY Parade planners continues, few realize that the parade actually kicked off a a half-hour before the DIYers ever got going, due to the intervention of 12 green-kilted bagpipers who marched under the banner of Santa Cruz Pipe and Drum. This group is the same bunch of pipers who have kicked off the First Night parade for the past decade--a ritual that begins promptly at sunset.
In fact, while six siren-flashing SCPD squad cars were swooping into the Taco Bell parking lot around sunset to arrest an alleged knife-wielder, the DIYers were still milling around the Saturn, their Trash Orchestra drowning out the unmistakable, hauntingly melancholy wail that is the mating call of the Scottish bagpipe.
After witnessing the SCPD bundle the knife-wielder into a squad car and spirit him out of harm's way--an action that helped secure the intersection of Laurel and Pacific for the DIY Parade when it finally got going--this reporter sprinted in the direction of the Town Clock to check out the source of the competing racket. And so it was that we arrived just in time to see 12 pipers emerge from Maple Street and begin their march down Pacific, an entrance that triggered a moment of unadulterated spontaneous magic. For the minute the crowd heard the strains of the Scottish march, it broke into two camps. One group remained on the sidewalk to cheer and clap. The other spilled into the middle of the street and marched behind the pipers. And suddenly everyone was either in tears or laughing, clearly emotional and clearly happy that what they have come to expect at sunset on New Year's Eve had actually happened: the kickoff of the annual parade.
Weeks later, we tracked down Santa Cruz Pipe and Drum's Jay Slater, who explained that the traditional time for the New Year's Eve parade to start, as established by First Night Santa Cruz for the past decade, is 5:30pm rather than 6pm, which is the time the DIY Parade began. In years gone by, paraders have also staged their entry onto Pacific Avenue from around Maple Street, thereby circumventing traffic problems the Saturn Café-based Last Night DIY Parade faced.
According to Slater, it takes an hour to tune up the bagpipes, something his troupe did in the parking lot of an auto parts store before filing onto Pacific at sunset.
So, it was actually Santa Cruz Pipe and Drum, and not the DIY Parade, that ended up kicking off the New year's Eve festivities, kilts and bagpipes akimbo.
Asked if his was a splinter DIY group, Pipe Major Jay Slater laughed.
"We like to think of ourselves as the main thrust," Slater said. "We have a specific philosophy propelling us for our walk up Pacific. It's about gratitude and giving back."
Admitting his group was disappointed when First Night folded last fall, having failed to meet its $125,000 fundraising goal, Slater said the pipers were open to joining the DIY parade, though no one from that group ever contacted them.
"There were rumors floating around about there being some kind of under-the-radar parade," Slater recalled. "From the vibes I was getting, it was not so much in the spirit of First Night. There were lots of conflicting stories swirling."
Admitting that his group "was tuning up, waiting for the parade to happen, but it didn't seem to be, so we just went ahead," Slater said he and his fellow bagpipers were "tickled" to lead the 2005 New Year's Eve parade.
"It felt closer to the spirit of the original First Night parade," he says. "It was great to see the whole street following us. They became First Night."
Slater said his group initially kept to the street meridian. "But then when we circled up, we saw that a whole group of people had filed in behind us and taken up the street, so we kept heading up and road, without concern for impeding traffic."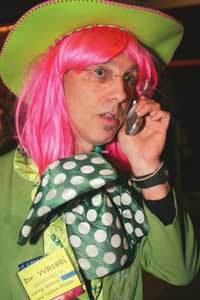 Photograph by Bob Fitch
Glenn or Glenda?: Masters of disguise, the wily anarchists would go to any lengths to complete their mission.
First Night, Last Night
So where does all this stand at the moment? City Manager Dick Wilson, who initially praised the department's internal investigation and declared the matter settled, was forced to do an overnight about-face after auditor Aaronson weighed in. Former First Night organizer Blake Edwards has observed that any nonprofit can apply to First Night International to use the First Night Santa Cruz identity. Mark Schlosberg, Police Practices policy director for ACLU of Northern California, says that the SCPD should have talked directly to the DIY Parade organizers,. Mayor Cynthia Mathews maintains that the DIY paraders' approach was "completely irresponsible."
But even Mathews acknowledges that "this community loves parades. We do them frequently. All we ask is that we be in the loop, so we can provide for a safe experience."
"The police are rethinking their approach," Mathews adds. "And I would hope the parade organizers would do a little soul searching as well. Just play in your mind what the scenario would have been like if a car had crossed a barrier, someone's flame-thrower got out of control or someone got hurt. Then there would have been all these accusations: 'They knew there was a parade, were they asleep at the wheel?' You're damned if you do, damned if you don't."
But DIY Parade organizer Modes appears unrepentant, his position tied more to concerns about protecting the constitutional right to freedom of speech, as represented by the right to stage a parade or a protest, than to concerns about making peace with the city or the SCPD.
"If the council wants to make a special exception to the special permit, because of special circumstances, fine, but free speech should be free," Modes maintains. "The degree to which you resist is the degree to which free speech is valuable. If they are gonna try and keep people from assembling, then they are going to face resistance. It's the New World Order."
As Mathews and Modes, Schlosberg and the SCPD all await Aaronson's supplemental report, they may want to factor in the following observations from Pipe Major Slater about the Santa Cruz New Year's Eve parade.
"It's become a tradition," says Slater. "It's a real charge to see people's faces, feel their joy and excitement. I just hope the city doesn't drop the ball and get stuck on insurance issues when New Year's Eve next rolls around. Because if it did, the city would be missing the point. The parade brings out so many people."
Noting that a sunset parade allows families to partake in an increasingly rare thing, namely "community around festivals at the dark time of the year," Slater says "what draws people to Santa Cruz in the first place is a real sense of tribe, community and rituals that mark the passage through the year."
Acknowledging that his group didn't apply for a permit and was hoping to "go along with this big group effort that is not quite legal, but which the community acknowledges as OK by virtue of group numbers," Slater says a New Year's parade is inevitable in the sense that it's an archetypal situation.
"There's a street, it starts to get dark--and people appear with various gifts and contribute in appreciation of the moment."
---
Undercover Oops
Who knew that undercover officers are authorized to drink beer at meetings? Or that undercover officer Carter Jones estimates that when he left a Dec. 17 DIY Parade planning meeting, his 12-ounce can of Tecate was "half full"? (Hey, at least he's an optimist.)
These and the following are just a handful of the essential factoids which came to light during our exhaustive perusal of the the SCPD's 600-page internal affairs investigation, which is now available at the local library. They are presented here in the hope that others will also be inspired to read it. (See, we're optimists, too.)
- Officers Carter Jones and Wesley Hansen arrived by bicycle at the Oct. 29 DIY planning meeting, armed and carrying radios, only to find everyone else in Halloween costumes.
- The officers told DIY Parade planners they'd heard about the parade at the "Farmer's Market."
- Jones said his family would participate as the "Razor Scooter brigade."
- Hansen claimed he was from SoCal, here to attend UCSC and with contacts at the Surfrider Foundation.
- The officers persuaded the DIY Paraders to start at 6pm, and not 10pm, on New Year's Eve.
- At the Dec. 29 meeting, Jones was suspicious when a photographer snapped shots as he and Hansen waited with underground activist and parade organizer Wedley Modes in the Cooper House breezeway for the rest of the DIY Parade organizers to show. As his acquaintance snapped photos, Modes asked the two undercover cops with mock innocence, "Do you think the cops would take pictures of us?" to which Jones replied, "No."
- An entry posted on the Lastnight.diy.org website last fall stated, "We're not asking for permits or permission. We're just gonna do it. Who's willing to take the risk of truly living without limits?"
- Based on statements provided on the Last Night DIY website, Vogel did not believe the SCPD would gain any cooperation from this group, even if the SCPD had reached out to them and contacted them directly.
- A review of police files confirmed the group had not applied for a permit, a discovery, writes Vogel, that, coupled with the website's "tone of defiance," and other incidents of past violence on New Year, along with the folding of the traditional First Night event, led him to suggest an undercover operation to Lt. Escalante.
Sarah Phelan
[ Santa Cruz | Metroactive Central | Archives ]