Vote Here!
Cast your ballot in the 2005 Goldies Readers Poll.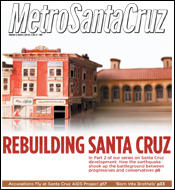 For the Week of
February 23-March 2, 2005
Cover Story: Rebuilding Santa Cruz:
In part 2 of our series on Santa Cruz development: How the earthquake shook up the battleground between progressives and conservatives.
SCAP Scrape: The controversy around Santa Cruz AIDS Project has become the hottest story no one wants to talk about--but will anything come of all these accusations?
Nüz: Ex-Mayor Smack-down.



Rev: Car and Taxes: If you purchase a new hybrid gas-electric vehicle by the end of 2005, you can take a clean-fuel vehicle-tax deduction of up to $2,000.



Anti-Gravity: For Trisha Brown's dance company, Newton's universal law is more like a suggestion--and they've politely declined.



Negatives, Positives: The children of Calcutta's prostitutes speak for themselves in 'Born Into Brothels.'



The Rock Show: Songwriter's Showcase; Camper Van Beethoven; GWAR.



Are You Vegetarian Enough?: And other ethical head games carnivores love to play with meatless eaters.
Copyright © Metro Publishing Inc. Maintained by Boulevards New Media.