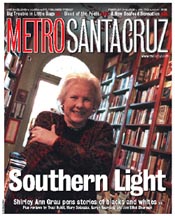 For the Week of
February 26-March 4, 1998
Cover: Southern Light
Shirley Ann Grau pens stories of blacks and whites.
Birthday Letters: Poet recalls a strange love with Sylvia Plath.
When People Could Fly: Marcus breathes warmth into poems.
Love Invents Us: Love and obsession in the New York 'burbs.
Becoming Modern: The Life of Mina Loy: The wild life of the first 20th-century woman.
Blood of the Poets: A new literary magazine puts Santa Cruz County writers on the same page with national men and women of letters.
News: Big Trouble in Little Bags
Outbreaks of Salmonella and Mad Cow Disease have lead people to eat more fresh greens--but even they may be tainted.



Night Howl: Juggling and grassroots organization make for a night of old-school edutainment.



Notes From the Underground: Old rockabilly never dies at Moe's, he just keeps geezin' along.



Without a Prayer: Novelist Katherine Nevi explores the chosen and the condemned in The Apostle.
Cold Comfort Future: Identity and reality get the sci-fi shuffle in bizarre Dark City.



A New Seafood Sensation: Rosa's Rosticeria with a reputation for quick, colorful fiesta foods earns new laurels for its sensational seafood.



Please don't forget to write! Metro Santa Cruz welcomes letters. Like any great work of art, they should be originals -- not copies of letters sent elsewhere. Include address and daytime phone (for verification purposes only). Letters may be edited for length and clarity or to corr