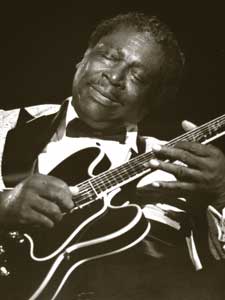 Riding with the King: B.B., Lucille and John Hiatt (not pictured) will top the bill at this year's Blues Festival.

The King of All Blues Fests

Reigning legend B.B. King to headline Santa Cruz Blues Festival

By Paul Davis

After bringing legends ranging from Ray Charles to Robert Cray to the sleepy environs of Aptos, some might wonder who festival organizer Bill Welch could woo this year to perform in a town better known for its beaches and golfing than its ability to draw national acts and musical legends. Thankfully, Welch and his associates have secured a world-class lineup that rivals any of the past incarnations, highlighted by the appearance of the iconic B.B. King.

Booking B.B. King for this year's festival was no small coup. "It took me 10 years to get B.B. King," Welch explains, noting that the blues master's tight performance schedule has made it difficult for him to come to the West Coast this time of the year. King retains a solid touring work ethic that made it difficult to book him in years past but earns Welch's admiration and respect. "When B.B. King started out, he would play 300 shows a year--musicians don't do that anymore. This guy plays all year long. It's not a vacation for him, it's his life. He's one of the most humble and real people I've worked with ... he knows nothing else than touring and playing music."

Welch is effusive with excitement at having King perform at this year's festival. "We've had almost all the big blues people and have been striving to get him for years ... he's the real King of the Blues, and we've gotten him on his 80th birthday celebration tour."

Even without King, Welch would have been able to boast of a mighty impressive lineup, with appearances by John Hiatt (performing with the Mississippi All-Stars), Los Lobos, Rod Piazza and the Mighty Flyers, Coco Montoya, Roomful of Blues and others not announced at presstime, in addition to emerging artists such as Vermont's Grace Potter and the Nocturnals.

The Sunday lineup featuring John Hiatt and Los Lobos marks something of a departure for the Santa Cruz Blues Festival, as it branches out to find musicians who are strongly influenced by the blues but are not traditionally associated with the genre. Los Lobos is one such surprise, a band whose blues influence is widely recognized despite its reputation as a rock band. Welch sees the group as the perfect example of this new approach.

"They're chameleons and you never know what they're going to do," he says, noting that unlike many bands which fall into a stylistic rut over time, Los Lobos "have been around forever and are still having a blast with it."

Despite the changes, the Blues Festival remains true to its mission of not letting the usual trappings of festivals overshadow the music. "Other than the food and beer and wine booths, everything involved in the festival is about the music--you won't find a massage booth, for example," he says. Welch sees the event as serving an important role in the community, bringing together ardent blues supporters as well as folks whose smoky nightclub days are behind them.

As Santa Cruz's yearly Memorial Day "kickoff to the festival season," he takes the Blues Festival's role as a respected arbiter of West Coast blues seriously. "We're established in the festival scene, but we never take that for granted. Unlike some of the festivals that happen later in the year, this one is smaller but has been embraced by people not only in Santa Cruz but in the entire area and even by people from all over the world."
---
Santa Cruz Blues Festival, May 27-28, Aptos Village Park, 100 Aptos Creek Road. Tickets: one day $35 gen/$60 Gold Circle/$20 children under 12, two-day $60 gen/$110 Gold Circle/ $30 children under 12, available at Moe's Alley, Streetlight Records and www.santacruzbluesfestival.com.
---
[ Santa Cruz | Metroactive Central | Archives ]