Vote Here!
Cast your ballot in the 2006 Goldies Readers Poll.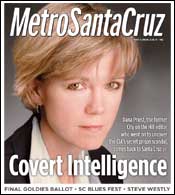 For the Week of
March 1-8, 2006
Cover Story: Covert Intelligence:
Dana Priest, the former City on a Hill editor who went on to uncover the CIA's secret prison scandal, comes back to Santa Cruz.
Go Westly, Young Man: Former eBay executive? Born-again Schwarzenegger critic? Our next governor? Will the real Steve Westly please stand up?
Nüz: Stop the Insanity.



Rev: According to a researcher at the Culinary Institute of America, 19 percent of all meals and snacks are eaten in the car.



Breech Birth: Michael Winterbottom wrestles Laurence Sterne's unfilmable 'Tristram Shandy' to a cinematic draw.



The King of All Blues Fests: Reigning legend B.B. King to headline Santa Cruz Blues Festival.
Müz: Are You Finnished?
Critic's Picks: A guide to the week's best music and events.



Poetic Musings: Area women take to the stage in celebration of the muse.



And Then There Were Six: Food writer tricks dinner club into providing uncompensated help with her research.
Copyright © Metro Publishing Inc. Maintained by Boulevards New Media.