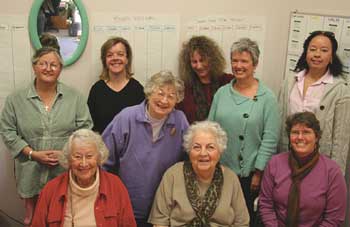 Sisters in Verse: Poets taking part in this year's 'In Celebration of the Muse' take over the Metro Santa Cruz office.

Poetic Musings

Area women take to the stage in celebration of the muse

By Leyna Krow

Those attending the March 4 "In Celebration of the Muse" poetry reading at the Cabrillo Theater may be struck by one commonality among the readers--they are all women. While this might not seem like a particularly Earth-shattering revelation, it is certainly a breath of fresh air for the world of poetry, which was dominated for so long by wealthy white men.

"There are so many fine women writers in Santa Cruz," enthuses Amber Coverdale Sumrall, the event's coordinator. "It speaks to the abundance of talent in this county."

What began 24 years ago as a fundraiser for the National Festival of Women's Theatre is now an annual event. Sumrall, a poet herself, says that "In Celebration of the Muse" has acquired a strong following over the years. "The event almost always sells out. To have over 300 people, both men and women, come to hear poetry is just amazing."

The writers who have been invited to read come from a variety of backgrounds. Some are poets by profession, but most also hold day jobs.

Julia Alter, who will close Saturday's show with a reading from her book Walking on the Hot Coal of the Heart, finds time to express her creativity amid the comings and goings of everyday life.

"My spirit is a singer and a poet," says Alters, "but by day I'm in sales."

Alter is one of many poets whose involvement with "In Celebration of the Muse" goes back years. Others are relatively new to the poetry scene.

"It's one thing to tuck a poem into a book, another to stand up and say this is who I am and this is what I wrote," says Ziggy Rendler-Bregman, who is coming to the stage for the first time this year after her poem, "When the Mangos Are Ripe," was published in The Anthology of Monterey Bay Poets 2004.

Themes addressed by the evening's readers will cover broad territory: From suicide and loss to sex, love and politics, the Muse's poets take aim for the heart and all its many passions. It is Alter's hope that those attending Saturday's show will be left with a sense of something more than just having been entertained.

"My intention for this reading is to have people leave inspired to go home and write or sing or make love or eat bonbons," Alter says. "I want people to go home feeling full. There are a lot of really yummy readers this year, so that shouldn't be a problem."

Proceeds from Saturday's show will go to Cabrillo College's Fast Track to Work program, which provides services for low-income students, primarily assistance finding jobs for those who are preparing to return to the work force after a lapse in employment.
---
In Celebration of the Muse, Saturday, March 4, at 7:30pm, Cabrillo Theater, 6500 Soquel Drive, Aptos; $18 door/$16 advance tickets at Bookshop Santa Cruz, Gateways Books, Bookworks in Aptos, Crossroads Books in Watsonville and the Cabrillo Box Office.
---
[ Santa Cruz | Metroactive Central | Archives ]