Vote Here!
Cast your ballot in the 2005 Goldies Readers Poll.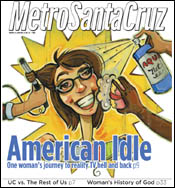 For the Week of
March 2-9, 2005
Cover Story: American Idle:
One woman's journey to reality TV hell and back.
Nüz: Yellow Brick Road to Pension Reform.



Rev: Just because it's a biodiesel station doesn't mean that people don't drive off with the nozzle still in their car.



Home Alone: Silence is solace for Henry Darger in the 'Realms of the Unreal.'



Notes of Memory: The San Jose Chamber Orchestra and New Music Works pay homage to composer Lou Harrison in a pair of concerts.
Happy 40th--and Manny More: Manny Santana whoops it up with concert and flan.
The Rock Show: Salif Koné and Universal Language.



Knife Knife Baby: Terry Beech is a know-it-all when it comes to knife-sharpening etiquette.



Power Surge: Erica Lann-Clark goes shopping for God and--oops--finds the goddess, instead.
Copyright © Metro Publishing Inc. Maintained by Boulevards New Media.