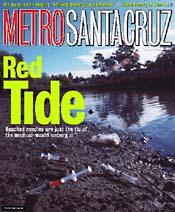 For the Week of
March 5-11, 1998
Cover: Red Tide
Beached needles are just the tip of the medical-waste iceberg.



Night Howl: UCSC alumna and flutist extraordinaire makes good.


In the Ring of Fire: Santa Cruz author Jim Houston meets the people of the Pacific Basin.



New Opera Takes the Cure: UCSC collaborators' Opium: Diary of a Cure proves addictive musical theater.



Edible Poetry at Theo's: A recent dinner at Theo's--an edible Enlightenment--refreshed the whole idea of contemporary American cooking.



Bowled Over: Joel and Ethan Coen roll an offbeat strike in comic mystery The Big Lebowski.
Talking Pictures: Author, psychologist, and relationships expert John Amodeo attends the disarming romantic comedy The Wedding Singer.



Notes From the Underground: Good Riddance wins 'em over on stage and on record.



Please don't forget to write! Metro Santa Cruz welcomes letters. Like any great work of art, they should be originals -- not copies of letters sent elsewhere. Include address and daytime phone (for verification purposes only). Letters may be edited for length and clarity or to corr