Vote Here!
Cast your ballot in the 2005 Goldies Readers Poll.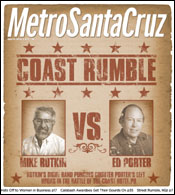 For the Week of
March 9-16, 2005
Cover Story: Coast Rumble: Mike Rotkin vs. Ed Porter:
Rotkin's right-hand punches counter Porter's left hooks in the battle of the Coast Hotel.
Waking Hours: Santa Cruz Film Festival director Jane Sullivan knows what it means to be a woman in business.
Nüz: Rumble on the Street; Hanoi Jane; Public Displays of Immorality; Planning Made Sexy.



Rev: Vespalicious.



War of the Mothers: Dan Harris' 'Imaginary Heroes' wrestle with love and death in Glen Ridge, N.J.



All You Need Is Love: The Banana Slug String Band celebrates 20 years of songs about bugs, slugs and other critters at the Rio Theatre.
Better Than the Grammys: The Sixth Annual Calabash Awards showcase hits the Cruz this weekend.
Unfinished Optimism: The Monterey Symphony is back in the saddle with Max Bragado-Darman's insights.
The Rock Show: New Music Works; Bat Makumba.



Kitchen Throne Rooms: Or as Benjamin Franklin once said, 'Hunger is the Best Pickle.'
Copyright © Metro Publishing Inc. Maintained by Boulevards New Media.