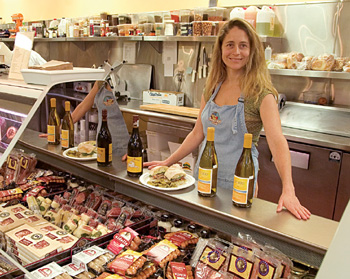 Photograph by Stephen Laufer

Deli Done Right: Owner Julie Kellmar serves up a seared chicken panini.

Simple Pleasures

Deli fare hits the spot at Seascape Foods

By Selene Latigo

Dave has always fantasized about opening a deli. His would be tiny, with only a couple of shelves stocked with gourmet imports and local standouts, a handful of wines and a single deli case with meats and cheeses, behind which he would concoct sandwiches, salads and a single soup of the day. We are always drawn to little grocery stores and markets, appreciating the choices owners make for us to peruse, sample and discover. Tucked away in a Seascape village courtyard is the fairly young Seascape Foods, offering just such a venue for us to explore.

This market is actually quite big, at least compared to Dave's musings. Four isles are lined with a myriad of goods, including local favorites like Belle Farms olive oil, Marianne's ice cream, and reasonably priced Santa Cruz and Monterey wines. There are also familiar staples like Clover milk, Kettle chips and Dagoba chocolate. A nice display of produce, some of it organic, greets you near the door along with a wall of Falcon Trading Co. bulk bins. On the opposite side of the store lies the deli, the reason for our lunchtime visit.

The three glass cases are easy to navigate, holding a simple selection of clearly labeled items. One has cheeses and meats, some of which are grass-fed, available by the pound. Another case holds the pre-made deli items featuring such classic selections as egg, macaroni and tuna salads, along with some less standard dishes like meatballs or marinated gigande beans, all $6.99 per pound. A variety of to-go sandwiches, wraps and salads are packaged, priced and easily accessible for faster service. The third case houses some beautiful Black China cakes and Kelly's pastries, in close proximity to the Surf City coffee station.

We weren't in a hurry and decided to try some sandwiches from their made-to-order menu. Everyone on the other side of the counter was extremely friendly, patient and eager to please, accommodating every request I overheard from fellow customers. The menu lists several panini and custom sandwiches, all on Kelly's breads, as well as green salads, a soup of the day, bagels and breakfast burritos offered in the morning.

Dave chose the roast beef panini ($6.50) with caramelized onions and horseradish aioli on a francese bun. He also got a small container of cucumber salad ($1.82). I opted for a custom grilled cheese sandwich, making check marks in a multitude of little boxes on my ingredient list before handing it over. I also wanted to try those gigande beans ($2.69) and picked up a vegan Black China brownie to share for dessert, always amazing for any occasion or dietary preference.

We meandered through the aisles, checking out the wine selection, food magazines and unique housewares while waiting for our lunch, which unfortunately took an incredibly long time to prepare considering the limited deli menu. After paying at the front register we headed outside to sit in the sunshine at one of the stone tables surrounding a geometric fountain, the only decorative feature that creates ambience amid this officelike complex.

Dave's panini was golden brown and pressed flat, blending the tender meat, sweet onions and subtle aioli into one layer with each crisp bite. He would have liked a bit more kick of horseradish to balance the caramelized onion flavor. The simple cucumber salad was perfectly seasoned with crunchy slices of cucumber, paper-thin red onion, dill and just enough vinegar tang. Sometimes the simplest things are the most satisfying when done right.

My grilled cheese was at least three inches thick, packed with my chosen ingredients of smoked Gruyère, Vermont cheddar, tomato, red onion, avocado, pesto aioli and whole-grain mustard on sourdough. It was more of a warmed cheese sandwich than grilled, probably due to the difficulty of cramming its girth into the sandwich press. The marinated beans were plump, moist and flavorful with bits of red pepper and onions in olive oil.

We were both completely satisfied with our selections, finding everything well priced and made with quality, fresh ingredients by happy people. I am always glad to see local businesses that feature high standards and delicious products. Seascape Foods showcases a wide array of what makes our area so special, and I hope to see them succeed in that little south county village.
---
Seascape Foods
Address 16B Seascape Village, Aptos
Phone 831.685.3134
Hours 8am-8pm daily
Price $2-$7.50
---
[ Santa Cruz | Metroactive Central | Archives ]