Vote Here!
Cast your ballot in the 2006 Goldies Readers Poll.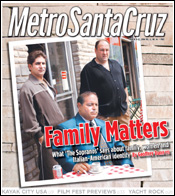 For the Week of
March 15-22, 2006
Cover Story: Family Matters:
What 'The Sopranos' says about family, women and Italian-American identity.
Kayak City USA: Boarders step aside as the 20th annual SC Kayak Surf Festival comes to Steamer Lane.
Nüz: Supe's Up.



Rev: Thunderstruck can take any gas-powered minimoto (or any gas-powered vehicle really) and make it a plug-in electric and not lose the speed.



Film Fest's Coming Attractions: Two upcoming events--a Sufi evening and a St. Patrick's Day Shamrock Out kickoff party--whet appetites for the fifth annual Santa Cruz Film Fest.
Trenchant: 'Joyeux Noël' recalls peace in war.



Mollicone for the Masses: Area composer Henry Mollicone is suddenly everywhere with his new mass for the homeless, a reworked 'Coyote Tales' and a series of birthday concerts.
Müz: If This Yacht's Rockin' ...
Critic's Picks: A guide to the week's best music and events.



Simple Pleasures: Deli fare hits the spot at Seascape Foods.
Copyright © Metro Publishing Inc. Maintained by Boulevards New Media.