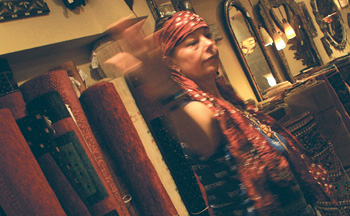 Photograph by Sarah Phelan

Rumi With a View: Filmmaker Tina Petrova's documentary on the mystic poet will be part of a March 24 Sufi celebration at the Rio.

Film Fest's Coming Attractions

Two upcoming events--a Sufi evening and a St. Patrick's Day Shamrock Out kickoff party--whet appetites for the fifth annual Santa Cruz Film Fest

By Sarah Phelan

Why did Canadian filmmaker Tina Petrova, who was brought up Roman Catholic and became a Tibetan Buddhist, make a documentary about Muslim mystic Rumi, a man born in Afghanistan at the time of Genghis Khan and whose astonishingly modern poetry continues to outsell Shakespeare, 9/11 notwithstanding?

The answer begins in the Mojave Desert, which is where Petrova was chanting a mantra while driving a mountain road when her car hit black ice in 1997. This confluence of events sent her hurtling off a 6,000-foot cliff--and toward the making of Rumi--Turning Ecstatic. The documentary, which weaves her personal journey into a planetary excursion, screens at the Rio Theatre on May 24 as part of an evening of Sufi music, film, poetry and dance.

"It was the winter solstice and I was on my way to morning prayers at a Tibetan Buddhist monastery outside Palm Desert," recalls Petrova of the fateful day in 1997 whose re-creation serves as the film's opening. "And I was chanting joyously at the top of my voice, 'Om Tare Tu Tare Ture Soha,' which translates as 'Holy Mother, please come to my rescue.'"

As it happens, Petrova had been chanting this mantra daily--a practice she believes helped her develop "karma with Tara, the Divine Mother," whose image she now wears around her neck as a reminder of her good fortune in surviving the ensuing near-death experience.

"Oh, and there was a hitchhiker involved," adds Petrova, recalling that she was already late for prayers when she saw a woman in a cloth coat shivering on the side of the road.

"I thought, 'If I stop, I'll miss the prayers, but I can't leave her,' so I picked up the woman and drove her all the way home," says Petrova, recalling how the woman said she'd missed her bus back to the high desert, and that her children were home alone.

"When she got out she warned, 'Don't drive off the cliff today.' But when I looked in my rear and sideview mirrors as I drove away, no one was there," says Petrova, who sees the hitchhiker as "an instrument of grace, whose intervention put me in a clear state of consciousness so that when I drove off the cliff, I was transported to a fortunate rebirth."

Asked if her life flashed before her as the car flew off the cliff and went into a roll, Petrova shakes her head.

"No, I didn't have a life review. My first instinct, was 'I'm going to die today, I had no idea of that when I left the house.' And then I thought, 'They're gonna call my mother. She'll be really sad.' I felt great compassion for my mother--and at that moment the car stopped."

Trapped upside-down in her seat belt, her ribs broken, Petrova, who was afraid her gas tank would explode, used her yoga skills to go into a full lotus position from which she was able to crawl through the spiderweb of glass that was once her car's windshield.

Though she escaped with her life, rebirth was not easy. In a body brace and suffering pain so debilitating that she could not work, Petrova despairingly did a novena to the Virgin Mary on Dec. 23, 1998.

"That night, Rumi came to me in a dream and told me to bring together a group of world-class performers and create a live event," says Petrova of the odyssey that led her to world-renowned Rumi translator Coleman Barks and, from there, to a successful event in Toronto which Canada's Vision TV urged her to make into a documentary about Rumi and Sufism.

"They saw my personal story as a doorway into Sufism, they told me it was what made it accessible," recalls Petrova, who uses her personal experience as a portal into the poetry of Rumi, the ecstasy of Sufism and the oneness of God.

Along the way, Petrova met many Sufi luminaries, including the Santa Cruz-based Kabir Helminski, who directs the Threshold Society, which works to apply Sufi principles to modern life. On March 24, when Petrova's film screens, Helminski will direct a live performance by Baranka, a Sufi music ensemble, featuring Sonia Drakulic and Gari Haggedus, Hamed Nikpay, Daud Jerrahi and some of the Whirling Dervishes of the Threshold Society.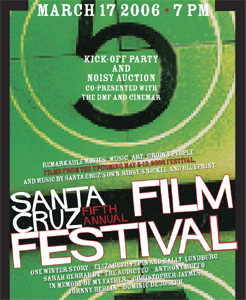 If This Sham's Rockin': Filmmakers, surfers and people who claim to be Irish will all convene for the Santa Cruz Film Festival's March 17 kickoff event.
If you didn't know that Santa Cruz Film Festival director Jane Sullivan has Irish blood in her veins, then the fest's aptly titled "Shamrock Out" kickoff party should tip you off, especially since it takes place March 17, which, as all good snake-fearing folk know, is St. Patrick's Day.
This year's kickoff features previews of four films in this year's May 5-13 fest, a "Noisy Auction" fundraiser and local shindiggers Ribsy's Nickel and Blue Print.
Attendees get to rub elbows with big wave pioneer Sara Gerhardt, who is featured in One Winter's Story, which follows Gerhardt's attempt to balance her Mavericks surfing with her wish to get a Ph.D. in chemistry.
Also present will be indie directors Christopher Jayme, whose In Memory of My Father chronicles a day-in-the-death of the father of three brothers; Dominic DeJosep, whose Johnny Berlin portrays the midlife crisis of a porter aboard a luxury train; and Anthony Ruffo, whose first short focuses on Santa Cruz's infamous "surfer" lifestyle.
---
An Evening of Sufi Music, Film, Poetry and Dance takes place March 24 at 7pm at the Rio Theatre, 1205 Soquel Ave., Santa Cruz. Tickets are $18 adv/$20 door, available at Metro Santa Cruz, 115 Cooper St., 831.457.9000, or Gateways Books, 1126 Soquel Ave., 429.9600. Shamrock Out takes place March 17 at 7pm at the Digital Media Factory, 2809 Mission St., Santa Cruz. For information, call 831.459.7676 or www.santacruzfilmfestival.com.
---
[ Santa Cruz | Metroactive Central | Archives ]