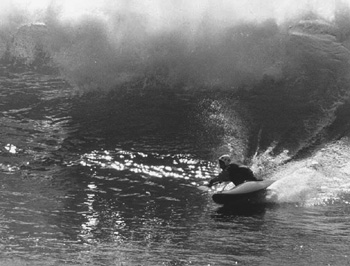 Ruling the Waves: Steamer Lane will become the exclusive property of acrobatic kayaks later this month.

Kayak City USA

Boarders step aside as the 20th annual SC Kayak Surf Festival comes to Steamer Lane

By Leyna Krow

Santa Cruz is preparing for one of its most popular annual surf competitions, complete with three days of food, music and wicked acrobatics. The only thing that will be missing: surfboards. Instead, competitors will catch waves in kayaks.

The Santa Cruz Kayak Surf Festival, which will run March 24­26, is the largest kayak surf competition in the world, according to the festival's coordinator, Dennis Judson of Adventure Sports Unlimited.

"People come from all over the world for this festival, not just to surf, but because this is Surf City USA," says Judson. "People are drawn to the Santa Cruz atmosphere."

As the younger brother of whitewater kayaking, surf kayaking has grown in popularity over the last few years. An increase in talent and an interest in acrobatics that can't be done on a standard surfboard are responsible for this recent surge of attention, says surf kayaker and festival participant, Teresa Rogerson.

"There are some things you can do with the leverage of a paddle that you can't do standing on a board. More moves, more tricks," she says. "Also it's gotten more popular with the younger generation, which [accounts] a lot for the sport becoming more freestyle and acrobatic."

Despite its relatively recent appearance on the public's radar screen, kayak surfing is no passing fad. In fact, kayaks have been used as surfboard surrogates for decades, with the first contests taking place in Great Britain in the 1960s. Of course, like seemingly everything else in surf culture, kayak surfing didn't come into its own until it became popular in Santa Cruz--in this case, in the late 1980s.

According to Judson, "Kayak surfing has been around forever. I'm sure Eskimos knew how to surf. But we were to ones who made it cool."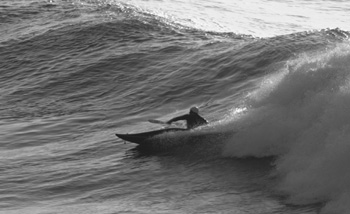 Catch a Wave: And you're kayaking all over the world.
This year marks the 20th anniversary of the Santa Cruz Kayak Surf Festival. Held each year at Steamer Lane, the festival attracts kayakers who are interested in riding waves at this world-renowned surf spot without the usual traffic. Says U.S. West Team Captain Jono Stevens, "There's no other surf kayaking event held at a wave like this. People come just for the chance to surf at Steamer Lane without any board surfers out."
Marketed as a festival, the competition is aimed at introducing newcomers to the sport rather than simply showcasing top talent.
"This is one of the few competitions where there are beginner events, so new people can feel comfortable and compete without feeling like they're way out of their league," says Stevens.
Indeed, spectators at this year's festival can expect a variety of levels of surfing proficiency, from novices and juniors competing for the first time to experts vying for spots on the U.S. West Team. Those who make the team will go on to compete in the 2007 world championships in Spain.
The festival will also host myriad of booths manned by manufactures and sponsors as well as workshops on surf kayaking basics for the curious to learn what's what. "The whole festival is kind of a seminar," says Judson. "It's a great way to get into the sport."
Representatives from the world of surf kayaking will be happy to explain why anyone would choose a kayak over a surfboard.
"It's kind of a different frame of mind," said Stevens. "A lot of people are turned off by the hard-core surfer mentality. Plus, surfing in a kayak can be easier. Put a total beginner in a kayak and they'll be able to catch a wave the first time out, where as if you put the same person on a board, it will probably take a few times out before they catch anything."
Of course, just catching a few waves won't get surfers much in the way of points at this weekend's competition. To score high, surfers must not only ride well, but also execute smooth and entertaining acrobatics. Big money maneuvers include Eskimo loops, 360 turns and endos with pirouettes.
For those looking to place high in this weekend's rankings, Judson offered sage advice. "You have to pick the right kind of wave. Then you have to do something on it."
---
The 20th Annual Santa Cruz Kayak Surf Festival, March 24-26 at Lighthouse Point on West Cliff Drive, overlooking Steamer Lane. Festivities run from 7am to 5pm each day. Free to all.
---
[ Santa Cruz | Metroactive Central | Archives ]