Vote Here!
Cast your ballot in the 2005 Goldies Readers Poll.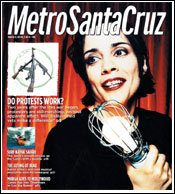 For the Week of
March 16-23, 2005
Cover Story: Do Protests Work?:
Two years after the Iraq war began, protesters are still marching, without apparent effect.
Collision Course: Surfing, river kayaking and surf kayaking come together at Steamer Lane for the 19th annual Santa Cruz Surf Kayak Festival.
Nüz: Marine Doppelganger; A Sense of Where You Are.



Rev: Paris Is Burning.



The Shut-Ins: 'Nobody Knows' is smart, not sentimental, in portrait of a motherless family.
Bliss Whipped: Short Cut to Nirvana: Party!



Oud, What an Ugly War: Iraqi musician Rahim AlHaj uses an ancient lute to express anguish, anger and hope of his people.
The Rock Show: The Supersuckers; The Loyal Sons and Daughters.



Us vs. Them: Or why baby cows taste better when you call them veal.



Loud Mouth, Soft UnderBelly: Marga Gomez targets Hollywood's sacred cows.
Copyright © Metro Publishing Inc. Maintained by Boulevards New Media.