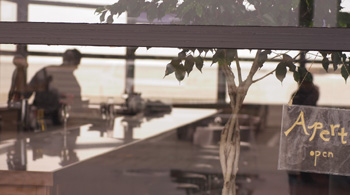 Photograph by Stephen Laufer

Somewhere at Sea: Stormy weather can't harsh the mellow vibes at Jazz on the Wharf.

Come Rain or Shine

Free jazz and plentiful provisions bring the municipal wharf to life

By Selene Latigo

On a recent Sunday, trapped inside all morning by the heavy charcoal sky, we waited for the storm to break through, releasing the anticipatory tension in the air. But the clouds sank lower and lower without relinquishing a drop. Stir-crazy and bored, I paced around the house, until finally grabbing my coat, boots and boyfriend, and headed out into the dark day.

Without so much as a plan or direction, we ended up following signs along West Cliff announcing "Jazz on the wharf ... Free ... Rain or Shine." Appreciating the tumbling beauty of the waves so close, we let the wind steer us down the pier toward the various restaurants featuring jazz, beginning our spontaneous adventure at Stagnaro's, figuring that since we were out, we might as well grab a drink and some lunch.

We listened to the synthesized smooth jazz covers of black beret'd Joe Lucido while Dave drank a spicy peppered Marine Mary with two prawns, olives and celery ($8) and I opted for Stagnaro's labeled draft beer ($4) made by Red Hook. When a large hungry family appeared, we vacated our big table and rambled onto our next musical destination, letting our ears guide us.

Lilting notes of the James Zitro Trio beckoned us upstairs to Olita's, where we found convivial energy, strong drinks and lively entertainment. My sangria, with overly prevalent Malibu rum, was too akin to coconut tanning oil for my taste, but Dave's hefty shot of El Tesoro Añejo was worth the visit for both of us, pure butterscotch without the sweet. We savored the fresh-toasted cumin and garlic-hued salsa, gazing out the tiny round window above the bar with a perfect view of the lighthouse and losing ourselves in the unplanned musical bliss.

Our distant idea of lunch was becoming apparently crucial as the alcohol began sloshing in our empty stomachs. Approaching "dinner" time at 4pm, we found ourselves at Riva, and looked over the primarily Mexican-influenced specials and reasonably priced menu with pasta dishes, fried classics and sandwiches.

Luckily, our appetizers arrived shortly after being seated. Dave's cup of chowder ($2.95) tasted fresh but unexciting, while the fried calamari ($7.95), surprisingly, was some of the best this season. A large-portioned basket was filled with dark golden, beer-battered and tender strips that were flavorful without heaviness or grease.

After getting some food to soak up our afternoon, we were ready for another round and ordered a Firestone beer ($3) and a glass of one of my favorite whites, the Thomas Fogarty Gewürztraminer ($5.50), a great price I thought, until the tiny pour arrived. Still, the wine was wonderful with my choice, the tilapia fillet ($8.50). The straightforward charbroiled depth with a squirt of lemon made this fish exactly what I had been craving: fresh and uncomplicated. The side of fries was standard, but still good with tartar sauce.

Dave's chipotle prawns and scallops ($13.75) with onions, mushrooms, potatoes and hot chiles was a tomato-based stewlike dish. Although the seafood was fine, Dave could not get over the uncanny similarity in flavor to his father's occasional weeknight special of "hot dog soup." Crisp sweet coleslaw was heaped in a bowl alongside an unexpected fried zucchini stick.

My second request for bread yielded extra sour and chewy sourdough with salty whipped butter that I could have made a meal out of alone. Instead, we ended our late lunch with the breadbasket and a brief sense of alarm at the "no credit cards accepted" sign. Riva supplied some much needed sustenance at low prices with an amazing water's-edge view. Angled just right, Riva has one of the best views in Santa Cruz.

No random wharf adventure could be complete without an indulgent trip to the candy store. At Marini's we got a bag of extra-large robin's eggs, one of Dave's guilty pleasures, a local discovery which may result in some excessive sweet tooth splurges in the future. Later on at home, we munched on candy and sipped vintage port. The sky finally opened up, and we, with no cable, bitterly watched a pathetic TV movie instead of the Oscars. Gone was the wildness of the storm that blew into our psyches, giving us a spontaneous Sunday we will long remember.
---
Riva
Address 500 Municipal Wharf, Santa Cruz
Phone 831.429.1223
Hours Daily 11am-close
Price $3-$17
---
[ Santa Cruz | Metroactive Central | Archives ]