Vote Here!
Cast your ballot in the 2006 Goldies Readers Poll.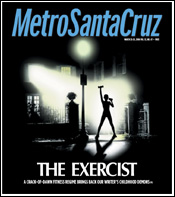 For the Week of
March 22-28, 2006
Cover Story: The Exercist:
A crack-of-dawn fitness regime brings back our writer's childhood demons.
Nüz: Can We Talk?



Rev: Hydrogen can be made by electrolysis: splitting water. And the energy for this process could come from wind or solar power.



London After Dark: All's well that's Orwell in dystopian vigilante film 'V for Vendetta.'



Art of Noise: Reaching the plateau of pleasure with Asobi Seksu.
Müz: Eclectic Purgatory.
Critic's Picks: A guide to the week's best music and events.



Death Takes a Pratfall: Christopher Moore returns to California with a tale of comic mayhem about a matter no less weighty than Death himself.



Come Rain or Shine: Free jazz and plentiful provisions bring the municipal wharf to life.
Copyright © Metro Publishing Inc. Maintained by Boulevards New Media.