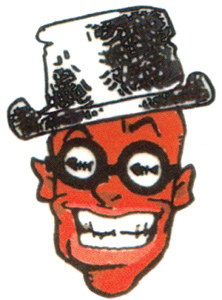 Flea in a Jar: Fishbone's Angelo Moore in his Dr. Madd Vibe persona.

Müz

Eclectic Purgatory

By Bill Forman

While it wasn't quite so jarring as the single evening I spent witnessing performances by Madonna, the Beastie Boys and Cabaret Voltaire, Saturday's juxtaposition of the Santa Cruz County Symphony at the Civic followed by Fishbone at the Catalyst made for one of those nights that remind you how much we take for granted the quality and diversity of music in this town.

Now, I could, of course, spend the next few paragraphs holding forth on the similarities between Romanian cellist Mihai Marica's vibrato-suffused soloing during the Symphony's performance of Tchaikovsky's Variations on a Rococo Theme and Angelo Moore's quavering theremin solo during Fishbone's set-closing Party at Ground Zero.

I could then go on to cite a Nijmegen Institute for Cognition and Information study in which both cello and theremin players were invited to perform Le Cygne in 10 different tempi in order to create a computational model that will explicitly predict the nature of vibrato from a cognitive standpoint.

But I wouldn't even think of doing that.

Besides, there's tons of Fishbone stuff going on that's worth knowing about even if you missed their frenetic Catalyst performance, which was highlighted by a funk-laden reconstructions of Fishbone classics like Everyday Sunshine (still the best hit Sly & the Family Stone never got around to writing) and more stage diving than a band their age has any right to do.

Most notably, a live Fishbone DVD is due out next month; shot in Hollywood last August in Hi Def 5.1 video and audio, it will include four previously unrecorded songs. The group is also featured in a new independent film called Electric Purgatory: The Fate of the Black Rocker, which also features interviews with members of dozens of groups including Living Colour, Bad Brains, Kings X, the Roots' ?uestlove and even Nayrok, the rocker sister of Erykah Badu. (Who knew?) The film chronicles the fact that, as fundamental as black musicians have been to the birth and development of rock music, black rock musicians continue to be treated with ambivalence, disinterest and even outright contempt by the industry to this day.

That same theme was echoed during Saturday's encore at the Catalyst, during which Moore came out alone and did an a cappella version of Showtime (Famous but not Rich), the opening track from his latest self-released solo album (as Dr. Madd Vibe) called Medicine Cabinet. An excoriating track that relates Fishbone's history as the black sheep of a funk-punk-ska scene they pioneered, the song ended the 90-minute party on a bitter note that was entirely in keeping with the defiant strain of social commentary that's never far beneath Moore's exaggerated smile. Watching him do a minstrel-show softshoe while comparing himself to a "flea in a jar," I was reminded how Fishbone and the Red Hot Chili Peppers came up at pretty much the same time and suffered most of the same problems, yet one group commands millions of dollars while the other barely scrapes by. And after seeing Fishbone's amazing performance at the Catalyst, it's really hard to dismiss that disparity as a difference in luck or talent.
---
Fishbone: www.fishbonelive.org; www.fishbone.net. Santa Cruz County Symphony: www.santacruzsymphony.com. Electric Purgatory: The Fate of the Black Rocker: www.electricpurgatory.com. Nijmegen Institute for Cognition and Information: www.onderzoekinformatie.nl; www.thereminworld.com
---
[ Santa Cruz | Metroactive Central | Archives ]