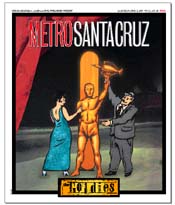 For the Week of
March 27-April 2
The Goldies: the Best of Santa Cruz
For our annual Metro Gold Awards, we asked you, the reader, to name the best people, places and businesses in Santa Cruz County. And the envelope, please ...
Plus, the Metro Santa Cruz staff picks out the highlights of local life.
News: Male-Order Brides
For those American men who want to meet women with marriage on their minds, love is for sale, and for '90s guys who find liberated women too intimidating, subservience can be put on a credit card.



Virtual Paradise: Pick up the oars and put your backs into it, folks, because we're now heading into the heart and soul of deepest Santa Cruz.



Talking Pictures: Author and dream expert Naomi Eppell works through David Lynch's unfathomable new creep show, 'Lost Highway.'



Beyond Skin Deep: Percussionist James Zitro travels the wide world for gigs and inspiration but remains relatively unknown in his Santa Cruz hometown.
Notes From the Underground: Soda Pop Fuck You puts the fizz back in ska-punk.