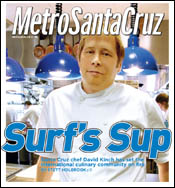 For the Week of
April 13-20, 2005
Cover Story: Surf's Sup:
Santa Cruz chef David Kinch has set the international culinary community on fire.
Nüz: Total Recall; The Dough Slinger; Thanks, Bill Murray!; Alumni Get a CLUE.



Rev: FamilyMobile: Though I had high hopes the United States would be blessed with the presence of the updated VW Microbus--we've been dissed!



Schmoozing the Cruz: Could I get your card? Cinemar and the Digital Media Factory hook up for the hook-ups.
Grape Nuts: The new wine-sipping documentary 'Mondovino' traces the end of the French Reign of Terroir.
Just Desert: New Mexico is beautiful and so is Joan Allen, and yet 'Off the Map' loses its bearings.



Mo' Is moe.: Diminutive name, huge talent.
The Rock Show: All Drool Before the Hydra; Miller's Genuine Draft.



Veggie Etiquette for the 21st Century: Vegetarians love food. Vegetarians are hungry. With that in mind, here are five gentle suggestions for making restaurants more veggie-appealing.
Copyright © Metro Publishing Inc. Maintained by Boulevards New Media.