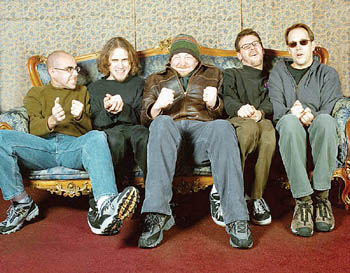 Mo' Confusion: The band known as moe. collectively regrets adding baked beans to the concert rider.

Mo' Is moe.

Diminutive name, huge talent

By Peter Koht

The half-life of a working band is about 18 months long. Unless a major label dangles a deal, or receipts from the tour are unbelievable, most bands fold early under the weight of relentless touring schedules, unresponsive labels or disappointing record sales. Nine times out of 10, it all comes to a close with a press release citing "creative and artistic differences."

Despite these challenges, moe. has continued to produce enjoyable and slightly off-kilter improvisational music for the last 15 years. Starting off as a five-piece from Utica, N.Y., this unassuming little group has seen some mighty changes in the musical universe and somehow managed to emerge mostly unscathed.

"We used to dream about opening up for some bands back when we started," recalls bassist and singer Rob Derhak, "but most of them have come and gone now, somehow we've managed to keep on going."

Like most improvisational bands, moe. has had to struggle to get its music out to the public in a form that resembles its live shows. It might have finally found the perfect balance between live spontaneity and studio perfection. Its latest offering, Wormwood, features songs that were recorded live, then augmented by editing and overdubbing in the studio. Though this process produced a fine set of songs, marketing it proved much more difficult. Once part of Sony's stable of up and coming artists, moe. was contractually linked to a marketing partner who had no idea what to do with the little band and its awkward punctuation mark. Derhak remembers their trips down to Manhattan to visit the label.

"We were willing to work with them, and they weren't antagonistic or anything, but they didn't have a plan for us. They really didn't know what to do with us and we were just lost in their bureaucracy."

The band responded to these institutional problems the only way that they knew how--they released a 45-minute single--then kindly took their leave.

"When we left Sony, we went and started our own label. It was a breath of fresh air really, and we have complete control now. If we fail, then at least we know who to blame."

Beginning in 2001, the group began to release soundboard recordings of its concerts, appropriately titled Warts and All. The three volumes released so far show a band not only capable of amazing feats of musicianship, but also one whose catalog is greatly underrated. Moe. writes songs that are lighthearted while still being solid and melodic.

Though never attaining superstardom or icon status, this band has consistently put on amazing shows and steadily built its fan base over the course of endless tours of the nation. With each successive venture out onto the road, more and more people are being seduced by its quirky charm. Come and join the cult.
---
moe. performs Thursday, April 14, at the Catalyst, 1011 Pacific Ave., Santa Cruz; tickets $18­$20 (16 and over show); doors 7:30pm, show 8:30pm. (831.423.1336)
---
[ Santa Cruz | Metroactive Central | Archives ]