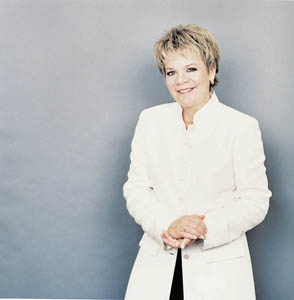 Photograph by Simon Fowler

A Breath of 'Fresh Air': Cabrillo Music Festival conductor Maria Alsop has gone high-profile with gigs around the world and an interview on NPR.

Marin Alsop Superstar

On the heels of a high-profile year for its conductor, the Cabrillo Music Fest announces upcoming season

By Scott MacClelland

Among symphony conductors, the Cabrillo Festival's Marin Alsop has emerged as the first female superstar. While Alsop's way was paved by Antonia Brico, Sarah Caldwell, Eve Queler and JoAnn Falletta, none of them has moved so steadily and expansively into the rarified company of the greats. Her fame has only grown with the most recent highlights of an international career that has stretched throughout Europe and the United States: the principal conductorship of the Bournemouth Symphony, a recording contract with Naxos, a "laureate" contract that includes "evergreen" renewals with the Colorado Symphony, and her most recent Los Angeles Philharmonic concerts last weekend. As if to underscore her "arrival," she was interviewed by Terry Gross on NPR's Fresh Air last month.

Not surprisingly, Alsop's passionate advocacy for new music at the Cabrillo Festival has attracted today's top orchestral composers, most of whom have appeared here as guest composers. This August they will include John Adams, Jennifer Hidgon and Aaron Jay Kernis, all returning to bask once again in the intensity of Alsop performances of their works. From Adams, The Dharma at Big Sur, the Lou Harrison/ Terry Riley homage he wrote for the L.A. Philharmonic's inaugural concerts at the new Disney hall. From Higdon, The Blue Cathedral and Concerto for Orchestra, both of which can now be previewed on Telarc CDs by the Atlanta Symphony. From Kernis, Color Wheel, of 2001, a "concerto for orchestra" composed for the Philadelphia Orchestra's centennial and the inaugural of its new Verizon Hall.

Featured performing artists begin with violinist Nadja Salerno-Sonnenberg in a pre-festival special of her own (Aug. 3) to include the world premiere of a violin concerto by Clarice Assad, daughter of Sergio Assad who is half of the famous Assad brothers guitar duo and frequent Salerno-Sonnenberg collaborator. Spectacular electric violinist Tracy Silverman (who gained fame with the Turtle Island String Quartet) will reprise the Adams premiere that won him a rave in the Los Angeles Times.

The Kronos Quartet returns for two performances--the U.S. premiere of Julia Wolfe's My Beautiful Scream for string quartet and orchestra, on opening night, and an entire evening of their own two night later. Wolfe, another guest of the festival, came to fame at New York's Bang on a Can. Acclaimed guitarist Sharon Isbin will appear at the San Juan Bautista program in Christopher Rouse's Concert de Gaudi, a concerto honoring the visionary architect of Barcelona, the recording of which on Teldec label won Isbin a Grammy.

Among other major composers confirmed is Kevin Puts, who had a big success last year with his Island of Innocence Symphony. His Vespertine Symphonies, inspired by Björk and composed this year, will begin the festival's opening night program. The amazingly versatile and popular Gregory Smith returns for the West Coast premiere of his Mr. Smith's Bowl of Notes at the free family concert. David Little, a participant in last year's Composers Workshop, is coming back with a dazzling West Coast premiere, SCREAMER!--a three-ring blur for orchestra.

Works by other leading lights among contemporary composers, not previously heard at Cabrillo, include Thomas Ades' Asyla of 1997, Oliver Knussen's Flourish With Fireworks of 1988, Mark-Anthony Turnage's Three Screaming Popes of 1989, and James MacMillan's Tryst of 1989.

These composers have Alsop to thank for bringing their music to life and to audiences. Their names may ultimately outlive hers, but in the moment, she's the sun and they're the planets, and the rest of us can fasten our seat belts for this "screaming" ride around a solar system called Cabrillo.
---
Schedule and ticket information for The Cabrillo Festival of Contemporary Music 2004 season, beginning in August, can be found at www.cabrillomusic.org or call the Santa Cruz Civic box office at 831.420.5260.
---
[ Santa Cruz | Metroactive Central | Archives ]