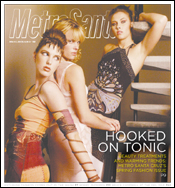 For the Week of
April 14-21, 2004
Cover Story: Hooked on Tonic:
Beauty treatments and warming trends: Metro Santa Cruz's spring fashion issue.
Nüz: Sales of products by former Santa Cruzan Tom Bihn skyrocket for unexpected reasons.



Dancer in the Bark: Attacking an elephant with a peashooter, Lars von Trier takes on America in 'Dogville.'
Death and Texas: 'The Alamo' gives a revised, often accurate, version of the famed battle--John Wayne would have hated it.
Commie Mommy: 'Good Bye, Lenin!' is a heartfelt comedy about the end of the worker's paradise.



Sing Your Life: Vocal genius Bobby McFerrin likes to get stage fright and hates people who suck the fun out of Mozart.
Marin Alsop Superstar: On the heels of a high-profile year for its conductor, the Cabrillo Music Fest announces upcoming season.
The Rock Show: Mariza; Dr. Ralph Stanley and His Clinch Mountain Boys.



Italian by Inspiration: Sestri is dedicated to serving up 'inspired Italian' cooking in its purest form.