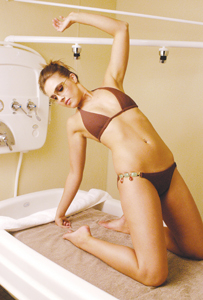 Vix jeweled bikini, $110. Kaylan Kelsen checks out Tonic's Vichy Shower, which offers a gentle hydro-massage infused with salts and essential oils for a full-body exfoliation.

Spring 2004 Fashion

Treat Yourself

Our spring fashion and beauty issue highlights the warmwear of Galla Cabana and the many body treatments of Tonic

Photographs by Stephen Laufer

Supposedly the vernal equinox is the day we all rip off our winter layers, throw open our front doors and fling ourselves across our specially prepared sunscreen Slip N' Slide on our way to the beach. Yeah right! Who's ready for that? You're not even wearing any pants! OK, now you are. Good job!

Anyway, only narcissists, crazy people and the governor of California think they were born ready for the upcoming months of warming weather that slowly simmer into a reckless bare skin-a-thon in this brazen beach town. The rest of us understand that spring is a season not only of change, but of preparation. So we get a new 'do, we get some exercise and we shop.

Many locals also make a pre-shore stop at Tonic Salon and Spa, where they take prepping to the next level. From a full hair salon to skin care to massage to complete makeovers, Tonic clients can choose from an array of luxurious spa options. So that's where we've set the stage for our spring fashion issue. And while our models wait around for their robes and slippers between treatments, they're showing off spring fashions from Galla Cabana. If you ever wondered where the chic Santa Cruz store got its name, by the way, it's a Portuguese phrase that literally means something to the effect of "very nice tent on the beach." Which is what you'll finally be able to pitch when you're through at these two Santa Cruz fashion and beauty fixtures.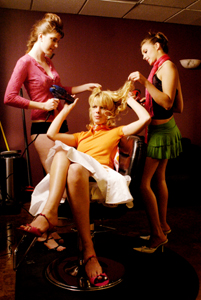 Left: Only Hearts pink lace top, $60. Tonic boy shorts, $15. Center: Lacoste cotton T-shirt, $72. Tufi Duek white cotton skirt, $227. Tufi Duek pink shoes, $171. Right: Grasielas scarf, $55. Tufi Duek pink tank, $122. Only Hearts green skirts, $60. Besides its array of beauty treatments, Tonic is also a full-service hair salon, as Cara Helminsk, Chelsey Mosgrove and Kaylan Kelsen are discovering.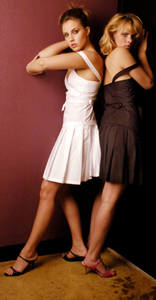 Left: Tufi Duek white cotton dress, $227. Right: Laundry fuchsia drape gown, $350. It's not always easy to stand up after one of Tonic's massage therapists get through with you.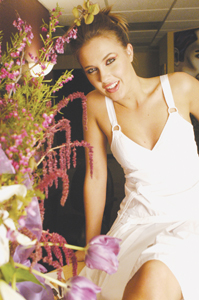 Tufi Duek white cotton dress, $227. Kaylan waits to be called in for one of Tonic's customized facials, each of which are designed for different skin types.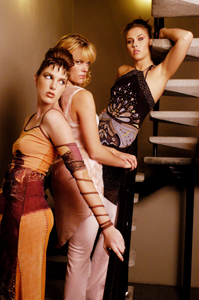 Left: Save the Queen nylon stretch dress, $342. Center: BCBY silk top, $184. Chip & Pepper white denim pants, $155. Right: BCBY 100 percent silk halter dress, $216. Spring is definitely warming up--see 'em on our cover in all their full-color glory.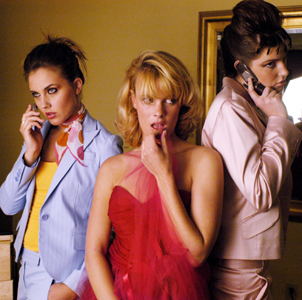 Left: Theory blue stripe canvas jacket, $350. Center: Laundry fuchsia drape gown, $350. Right: BCBY satin pink suite jacket, $275. Tonic's good works are so relaxing, you'll want to tell everyone. Now where did Chelsey leave that phone?
[ Santa Cruz | Metroactive Central | Archives ]