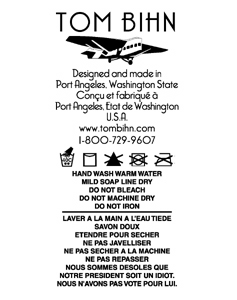 Photograph by Sarah Phelan

Fashion Statement: The now notorious label inside Tom Bihn's products.

Nüz

Bihn There, Done That

Resistance is not futile. At least not for business. That's the message for former Santa Cruzan Tom Bihn, whose Port Angeles-based business saw sales skyrocket after a web blog posted the contents of the label sewn into his current crop of backbags, laptop bags, etc. (Cruzers will remember Bihn's kick-ass wares from the giddy pre-E-commerce days when Bihn had a storefront on Locust Street.)

Turns out the care label inside the current Bihn bags is also printed in French because the bags are sold in Canada, and this French version, in addition to the usual washing instructions, carries the following message, "Nous sommes desolés que notre president soit un idiot. Nous n'avons pas voté pour lui." Which means "We're sorry our president is an idiot. We didn't vote for him."

This "secret" message reportedly began as an inside joke among seamstresses and staff at the Tom Bihn factory, and was meant to poke fun at the company's president himself.

Says Bihn's marketing VP, Darcy Hudgens, "The joke's on Tom, because he's really bad at French. People just jumped to the conclusion that it was about the other president."

Official stories aside, Santa Crustaceans are reportedly planning to induct Bihn into the Santa Cruz Hall of Infame, which has grown in recent years thanks to Mr. Twister, Chris Krohn, WAMM and the homegrown Impeach Bush society (who sent a letter to the House Judiciary Committee last fall and still haven't heard a peep, but we digress).

Apparently, sales more than doubled all previous weeks in the Tom Bihn company's history, after a bunch of Ooh, la la-ing about the label on Seattle, Chicago and California NBC affiliates, Seattle's KOMO radio and the nationally syndicated Paul Harvey radio show, not to mention MSNBC's Countdown With Keith Olbermann, and Port Angeles' PNN cable station.

Bihn has created a T-shirt featuring the infamous label, and plans to donate all proceeds to the Seattle Vet Center's Homeless Vet Program. As Bihn puts it, "Supplies are limited. Be controversial. Place your order today. Note: Feelings run strong on this issue. If you have something to say, we want to hear it. You may email us at [email protected] or post in our forums."

Burma Disconnect

Speaking of T-shirts, last Friday kicked off the fog season in a deceptively sunny way, so that anyone who'd left home wearing a T-shirt was majorly regretting it by late afternoon. Still, this was not enough to deter a group of T-shirt-wearing Shoreline Middle School students from returning their recently purchased "Santa Cruz" sweatshirts to Pacific Wave in downtown Santa Cruz.

Their beef? The shirts all bore a "Made in Burma/Myanmar" label.

Miesha Bernstein, Cheyenne and Taimane McClain, Jayme Timpson, Ryan Wadsworth and John Garriss said they bought the shirts before noticing they were made in Burma/ Myanmar.

"These sweatshirts were made in sweatshops using what amounts to slave and child labor," said Bernstein.

"President Bush passed a law in August banning things manufactured in Burma," added Cheyenne McClain, whose sister Taimane noted that since companies were given 30 days to stop importing from Burma, she and her friends are requesting that Pacific Wave stop carrying this apparel within 30 days.

"And we're not just picking on Pacific Wave," said Taimane, adding that a lot of Santa Cruz surf shops carry made in Burma apparel.

"We really like these sweatshirts, but we also morally object to the sweatshops in which they were created, because they support a military dictatorship," said Timpson, noting that workers in Burma make between 4 and 12 cents on these sweatshirts, which only take about 15 minutes to make, but which retail for $44, before tax.

That said, the teens entered Pacific Wave trailed by a film crew--a scene that echoed Michael Moore's visit to K-mart in Bowling for Columbine.

After PW floor manager Adam Dudley pointed out that PW was not the manufacturer of the shirts, the teens, who've also written to the Santa Cruz-based manufacturer, NHS INC., filled Dudley in on the Burmese Freedom and Democracy Act, which was signed into law in August and bans importing anything that's been produced, mined, manufactured, grown or assembled in Burma.

Timpson also recalled how the National Basketball Association, which sold similar made in Burma sweatshirts for $60, was forced to move operations to China and Vietnam, after people complained. "The race to the bottom ends at Burma," she said.

Meanwhile, Dudley, who promised to pass the info onto PW's owner Todd Noland, speculated that PW had already changed the country of manufacture, and that these shirts were simply backstock, before guiding the teens to the register for a hassle-free refund.

Reached by phone, NHS's marketing director Jeff Kendall confirmed that his company hasn't imported anything from Burma since the law went into effect Sept. 1, 2003.

'Whatever is in the stores was imported before the ban," he said. As for the teens' requests that such merchandise be removed from store shelves, Kendall said he wasn't at liberty to comment on that at present.

Meanwhile, Timpson's mom, Marlene Winell, who just happens to be the director of the Santa Cruz- based Envision Productions, plans to include footage of the PW visit in the upcoming documentary Planet USA as an example of what you can do locally about globalization.

Said Winell, "Ordinary Americans don't want to think their clothes are made in sweatshops. Kids like these are making a difference by returning these sweatshirts with high drama."
---
Nüz just loves juicy tips: Drop a line to 115 Cooper St, Santa Cruz, 95060, email us at , or call our hotline at 457.9000, ext 214.
---
[ Santa Cruz | Metroactive Central | Archives ]