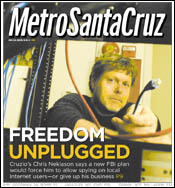 For the Week of
April 21-28, 2004
Cover Story: Freedom Unplugged:
Cruzio's Chris Neklason says a new FBI plan would force him to allow spying on local Internet users--or give up his business.
Nüz: Not even a bomb threat could deter fans from seeing 'Democracy Now!' host Amy Goodman speak at the Rio.



Never Forget: 'Osama' finds the core of anger in a family of women under the thumb of the Taliban.



Ukes Run Wild: Ukulele ladies and gents defend their musical weapon of choice as they descend on Santa Cruz's UkeWestFest.
Universal Frequency: Santa Cruz's Universal Language is lighting the fusion on world music with an unusual sound and a weekly showcase of global grooves.
The Rock Show: NOFX; (International) Noise Conspiracy; Hell's Belles.



Three Courses and the Truth: Michael's on Main experiments with seasonal courses and a little dinner theater.