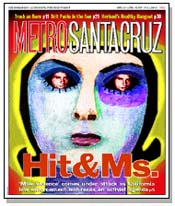 For the Week of
April 24-30
Cover: Hit & Ms.
'Male violence' comes under attack as California law enforcement embraces an activist agenda.



Virtual Paradise: Hit the road, take to the air and get back to the future.



Eye Ayes: Pacific Rim Film Festival showcases new flix made in Japan, Hawaii, China and Mongolia.
Polluting Waters: The trash aesthetic of Pink Flamingos cult director John Waters has inspired a generation of revolutionary bad taste.
Disaster Down Under: Australia's Love and Other Catastrophes mimics TV's Friends to a fault.
Talking Pictures: Legendary Joan Baez sings the praises of courage, the power of music and the film Paradise Road.



Notes From the Underground: A rare taste of English punk--right in SC's front yard.