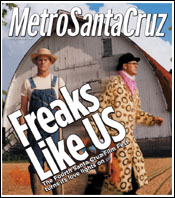 For the Week of
May 4-11, 2005
Cover Story: Freaks Like Us:
The Fourth Santa Cruz Film Fest turns its love lights on.
Take the Word 'Mother' and Run With It: In which a cat and a diarist inspire an authentic Mother's Day ode.
Nüz: Library Wars; SCCARRED Children; Super Cooper.



Rev: Boatcar: A complicated series of wings can be unfurled from the cockpit to create a hydrofoil once you hit water.



Shearer Energy: Somewhere between NPR, 'The Simpsons' and the next Spinal Tap tour, Harry Shearer is finding time to bring his film 'Teddy Bears' Picnic' to Santa Cruz.
Island Fever: A modern Prospero rules a crumbling commune in 'The Ballad of Jack and Rose.'



Django and Me: Sinti guitar virtuoso Biréli Lagrène steps out from the shadows of Django Reinhardt's legacy.
Beethoven's Uniquely Ninth?: Larry Granger's decision to play Beethoven's Ninth Symphony creates a brooding, grim atmosphere.
The Rock Show: Rizwan-Muazzam Quawwali; Zap Mama; the Aptos Club's Battle of the Bands.



Tough the Shaman: Randy Fuller's new book proves that the mediums are the messengers.



Dinner in Brazil: Traditional fare makes dinner at Cafe Brazil as cheerful as its canary walls.
Copyright © Metro Publishing Inc. Maintained by Boulevards New Media.