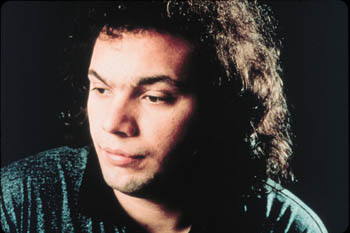 Gypsy Project: Biréli Lagrène tips his lion's mane to Django Reinhardt's influence.

Django and Me

Sinti guitar virtuoso Biréli Lagrène steps out from the shadows of Django Reinhardt's legacy

By Peter Koht

Standing in the shadows of greatness has truncated a number of otherwise notable careers in music. This is particularly true in the jazz world. Grant Green is always compared to Wes Montgomery, Jackie McLean is usually mentioned in the same breath as Charlie Parker and Biréli Lagrène is continually compared to Django Reinhardt.

Born into a Sinti Gypsy family in the Alsace region of France, Lagrène shares Reinhardt's heritage, as well as the raw power and skill that Reinhardt brought to the guitar. It's not surprising that after several years of playing intense modern jazz that Lagrène has returned to his roots. His latest recording, The Gypsy Project, artfully pays homage to Django's legacy and the unique form of jazz that the three-fingered Belgian gave birth to in the 1930s and '40s.

Lagrène has no problem copping to his largest influence, but he does so with a caveat. "You can only listen to him. I can't play like him. The sound that he developed has really influenced me though and I really go after that sound rather than his playing technique."

It's a style filled with aggressive runs and chunked rhythm figures built out of simple, rapidly changing chords. Eschewing the harmonic fireworks that would come later in jazz, the French Gypsy style has championed simple tonalities whose ebullience and joy practically enforces head bopping and ridiculous finger snapping.

Paired with the Romanian masters Taraf De Haïdouks, Lagrène and his band will bring an evening of Roma-inspired music to our shores in the final UCSC Arts & Lectures performance of this season. Programming the set should be no bother for Lagrène, who literally was raised with the sounds of the Hot Club of France (Django's most famous group) reverberating through his childhood home.

"Probably the first time that I heard a record of Django's I was 4 or 5 years old. I would see my father and my brother play guitar all the time."

Far from simply imitating the sinuous lines that Django threw down during his career, Lagrène has absorbed the tradition and built upon it. Issuing his first album at 13, he has now amassed a sizable recording catalog that shows the strengths of the Gypsy style within a more modern context. It's a difficult task to update an archaic style, but Lagrène has accomplished it through careful decisions and an open ear.

"I come from the more modern side of jazz. I used to play a lot of electric guitar, but some chords won't really work in this style. You have to be careful, or else it doesn't sound right."

Lagrène is mostly known as a fierce young lion whose speed on the fretboard is only matched by Slayer, but he is happily slowing up on his newer recordings. "The older I get the more I want to play ballads. I am planning to maybe record a whole record of nothing but ballads."
---
Biréli Lagrène performs with Taraf De Haïdouks, Thursday, May 5, 8pm, Rio Theatre, 1205 Soquel Ave.; $23-$27, students $15. For more information, see events.ucsc.edu/artslecs/Default.shtml.
---
[ Santa Cruz | Metroactive Central | Archives ]