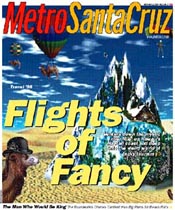 For the Week of
May 7-13, 1998
Cover: Queen of the Nile
A return to the primal source of all history provides elegant encounters with modern opera, the ancient past and the timelessness that is Egypt.
Cliff Hanger: Two nice suburban girls rough it on Kaua'i's Na Pali coast.
Future's Edge: The Mojave Desert endures, battling those who would carve out the heart of its mystery and beauty.
Santa Cruz South: Chile's coastal resort town of Pichilemu bears a striking resemblance to SC--minus the asphalt and vegetarians.
Tacky Tracks: Tourism reshapes the world in unpredictable ways.
News: Pinball Wizard
Whether the Beach Area plan will benefit the community is an open question--but it certainly is going to benefit Seaside Company owner Charles Canfield.



Vulcan Love Slaves: Buffy meets Mulder at ER--fan fiction lights up the Net.



Notes From the Underground: Santa Cruz girl band the Peggy Hills rocks hard.



A Relleno in Every Pot: An outing to Aptos starts with a stroll on the beach and ends with margaritas and dinner at the legendary Manuel's.