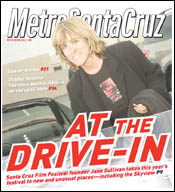 For the Week of
May 12-19, 2004
Cover Story: At the Drive-In:
Santa Cruz Film Festival founder Jane Sullivan takes this year's festival to new and unusual places--including the Skyview.
More Santa Cruz Film Festival coverage:
Structural Integrity: 'The Empty Building' takes on child abuse with surprising style and vision.
Maz Appeal: Aptos artist James Mazzeo is at the center of Neil Young's vision for 'Greendale.'
Nüz: Cliff Skolnick wants to bring free Internet power to the people of Santa Cruz and beyond.



Rev: Metro's auto column makes its online debut.



In the Dark: There's plenty to be afraid of in the ground in Italian thriller 'I'm Not Scared.'



Dig Them Out: 1996: The year Sleater-Kinney ate my popcorn.
He Wants to Tell You: Dale Ockerman has got lots to say about the White Album Ensemble's 'Rubber Revolver.' Too bad our reporter is totally tripping out.
The Rock Show: Camper Van Beethoven.



How Green Is Their Valley: Santa Cruz corners the market on Irish exports with a new Rosie McCann's on San Jose's Santana Row.