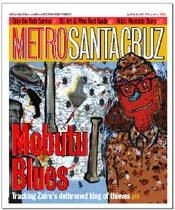 For the Week of
May 22-28
Cover:
Mobutu Blues
Tracking Zaire's dethroned king of thieves.
News:
Only the Rich Survive
Dominican's UrgentCare unit introduces 'financial triage.'
An ER Code Blue: The California Department of Health Services finds 'serious problems' in Dominican's emergency room.



Mountain Daze: Boulder Creek Art & Wine Fest stands out as one funky musical celebration.



A Blues Traveler: After 20 years of living in France, legendary American guitarist Luther Allison returns to the home of the blues.
Notes From the Underground: KZSC entrepreneurs plan a live compilation of local and touring talent.



Aldo's Westside Story: In a charismatic marriage of old SC roots and emerging SC tastes, Aldo's Cafe makes a bravura Westside debut.