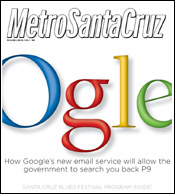 For the Week of
May 26-June 2, 2004
Cover Story: Datapocalypse:
Google's Gmail service is just the beginning of a new information surveillance regime.
Nüz: Drilling in a wildlife refuge might sound crazy, but it apparently sounded perfectly pretzel-logical to Dubya.



Rev: Crude oil prices have soared past the $40 a barrel mark--the highest they've been in 14 years.



Slice of 'Life': Lili Taylor goes Iggy Pop on her forehead to make an impression in 'A Slipping Down Life.'
Monster's Ball: 'Shrek 2' is heavy on the inside jokes but still a treat.



Guitar Facing East: Windham Hill icon George Winston plays some truly alternative music when he performs for the Five Branches Institute's 20th anniversary.
The Rock Show: Roy Hargrove; Mirah.



Lips Like Sugar: With a big push from candy-making into cosmetics, Donnelly Chocolate may never come down from its sugar high.