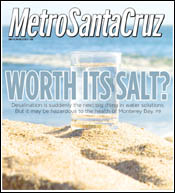 For the Week of
June 9-16, 2004
Cover Story: Worth Its Salt?:
Desalination is suddenly the next big thing in water solutions. But it may be hazardous to the health of Monterey Bay.
Nüz: Wondering how Felton's water system ended up in the hands of a foreign multinational?



Rev: My friends and I arrived in our city car, tattooed with bumper stickers but otherwise shiny clean.



Dolefully Adequate: Guy Maddin's new film, 'The Saddest Music in the World,' rails against the death of music.
The Firm: A new documentary explores the bottom line on 'The Corporation' culture worldwide.



Ballot to the Head: If you think the Battle of the Bands is a feel-good scenefest, you don't know a thing about the fightin'est gig in town.
The Rock Show: New Music Works' Avant Garden Party; Jackie Greene.



Our Dinners Could Be Your Life: The owners of Al Boccalino bring their almost round-the-clock devotion to cooking and eating to Aptos.



Weill, You Were Seeping: 'Street Scene' captures Kurt Weill's talent for bleeding American musical styles into classical opera .