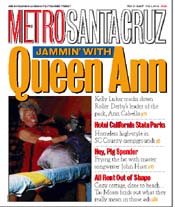 For the Week of
July 23-30
Cover: Jammin' With Queen Ann
Kelly Luker tracks down Roller Derby's leader of the pack, Ann Calvello.
News: Hotel California State Parks
Homeless high-style in SC County campgrounds.
All Rent Out of Shape: Cozy cottage, close to beach... Tai Moses finds out what they really mean in those ads.



Hey, Pig Spender: Frying the fat with master songwriter John Hiatt.
Notes From the Underground: Steady local house shows go the way of the dinosaur.



Night Howl: A crop of Santa Cruz's female musicians and artistes pile in to What Is Art? for a good dose of WomanPower.