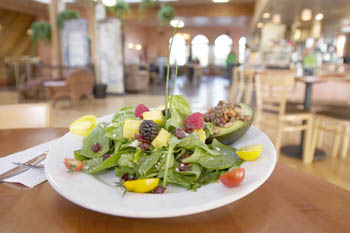 Salad Days: The Attic's colorful creations are worth the climb.

Stair Trek

The Attic boasts some of downtown's freshest sounds--and tastes

By Selene Latigo

Always curious about new food establishments, Dave and I climbed up to the Attic in downtown Santa Cruz to check out their new dinner hours and to continue my ongoing search for a great salad. Cavernous yet light, the space is dusted with tables and exotic-looking couches and chairs, plants reach up toward the far away ceiling and voices echo and blend into music. The Attic is also a gallery space that features live performances and a variety of artistic endeavors. Coupled with an exciting menu with many local and organic products as well as hundreds of specialty teas, this new space is definitely a place to visit.

After making the steep trek upward, we took in the expansiveness and headed over to the counter to browse the large menu board. The prices are all reasonable--$2.95 to $9.95--and the seasonal selections offer mostly vegetarian options but a good amount of carnivorous ones as well, such as the buffalo burger, classic chef salad and red curry prawns. Big bowls of fresh and colorful produce sat atop the counter in front of the semiopen kitchen, emphasizing the farmers market citations throughout the menu.

We finally made up our minds and stepped up to the register. Trying to choose from the overwhelming list of teas at the last minute was difficult, and if I had taken the time, I would have utilized the various informative tea displays before ordering. But this time, our random choices turned out successful. Dave's "Dragon Well" green tea ($4.35) was completely pure and clean tasting, without bitterness, and was described as "the most revered green tea." My chrysanthemum herbal tea ($2.25) was light and floral with an earthy mineral quality

Our food came out shortly after the teas, beginning with a cup of the soup special ($2.95, $3.95 bowl). Although the menu boasts having two soups per day, we only saw the black bean with cilantro cream listed. This soup came hot, a welcome and often rare occurrence, with chunks of carrot, onion and tomato. The thick dollop of cilantro cream offered a cooling contrast to the smoky black beans, and the herbed sourdough croutons added texture.

Our small legume salad ($6.95, $8.95 large) was a colorful blend of black-eyed peas, cannelloni beans, green lentils and various other legumes, all well dressed in a balanced balsamic vinaigrette with mixed greens and caramelized onions. A ripe avocado half accompanied the salad, stuffed with more bean mixture and mango chutney. There was no Stilton cheese in the avocado as mentioned on the menu, but the flavors all came together well even though the legumes were very undercooked.

Dave's "Ploughman's Lunch" ($8) was a generous selection of cheeses, croutons, mixed greens and apple slices. Again, the menu stated that this dish came with different mustards, but there were none on the plate when it arrived. For the price, the amount of quality cheese splayed around the fresh greens was impressive, and we ended up taking a lot home in one of the Attic's compostable to-go containers made out of cornstarch.

My pu-erh tea-marinated portobello melt ($6.95) came with a choice of francese, wholewheat sourdough or kaiser roll, with sautéed spinach, caramelized onion and Maytag blue cheese. I chose francese and was happy with how this tender bread soaked up the mingling flavors of the grilled mushroom and sweet onion. Vibrant slices of steamed purple potato garnished the plate with some tomato as a color contrast. All of the dishes had beautiful visual touches, making the meal all the more enjoyable.

I was somewhat surprised by the limited number of dessert items, since this is a teahouse. There are a few simple cookies displayed in a glass case, but I think it would be a welcome addition to have more "tea time" treats such as scones, biscotti and cakes. There are several great local baking businesses that could provide these at the drop of a hat.

I am excited to have discovered a new place to get a myriad of fresh and flavorful salads, plus much more. The discrepancy between what is written on the menu and what actually arrives on the plate is perhaps just a depiction of the fluidity here. Overall, the Attic offers something for everyone in a wonderful space full of promise. Next time you are downtown with a craving for fresh, inexpensive food in a unique atmosphere, look upstairs.
---
The Attic is located at located at 931 Pacific Ave., Santa Cruz; open 11am-9pm daily, 831. 460.1800.
---
[ Santa Cruz | Metroactive Central | Archives ]