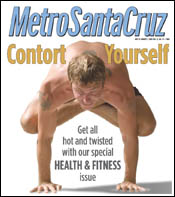 For the Week of
July 27-August 3, 2005
Cover Story: Contort Yourself:
Get all hot and twisted with our special Health & Fitness issue.
Hot Flashes and New Beginnings: Naturopathic doctors offer another option for women seeking alternatives to synthetic hormone therapy.
Scaling the New Food Pyramid: The food pyramid gets a makeover.
Sphere Factor: In which a journalist confronts circadian rhythms and proper posture in just 48 hours.
Nüz: Pegged for Cuts; Stuntman; Trans-Triangulation; Down on Downing Street; Vietnam Flashback.



Rev: Stranger Than Fiction: I'll never understand the luxury market for auto accessories, especially when I can barely vacuum out the beast once every five years.



Wheel Works: Wheelchair athletics are unsafe at any speed in documentary 'Murderball.'



Empty Glass, Full Life: Hugh Masekela returns to the Kuumbwa, sober, hopeful, and filled with new music.
The Rock Show: Aza; John Ellis; the Aquabats.



Harry Potter and the Pot of Gold: Does the rainbow end on your bookshelves? Speculators search for the golden editions of Harry Potter.



Stair Trek: The Attic boasts some of downtown's freshest sounds--and tastes.



Shadow Play: There's darkness beneath the surface of 'Twelfth Night' in P.J. Paparelli's production of this much-loved comedy.
Copyright © Metro Publishing Inc. Maintained by Boulevards New Media.