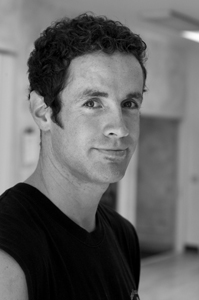 Photographs by Stephen Laufer

In Charm's Way: Harbison's devotees like the atmosphere he creates in his classes--'You'll never get your point across by being a dictator,' he says.

Club of Personality

In the highly competitive world of fitness-for-hire, what makes a guru? It's certainly not always an excessively buff body that draws those desperately seeking shape to the most popular trainers and instructors. To find out what it takes to be a 'fitness celebrity,' we followed one of Santa Cruz's own.

By Sarah Phelan

You know who they are. Those fitness instructors with cult followings. The ones whose classes are full half an hour before they even show up at the club. The ones who inspire night owls to attend 6am classes. The ones who instill respect in even the toughest of gum-snapping fitness fanatics. The ones who you don't ever want to have to substitute for, because the whole class will walk out the minute you show up--unless, of course, you've brought your own cult following.

If, like me, you're a health club connoisseur, you also know that there's no way of telling outside of class which instructors have groupies, and which don't. Who'd have thought that mousy-looking girl with the stick-thin legs would turn into an iron-hard drill sergeant the minute the gym door swung shut? Or that the body builder with the bulging biceps and skintight latex would be the sweetest--and least effective--instructor you've ever pumped iron with? But if it's not a question of height, mass or weight, if the color of hair, eyes and shorts isn't what attracts people to some classes like white lint on black pants, then what on earth does?

To find out, I decided, I would need to understand what makes Michael Harbison's kick-boe classes at Toadal Fitness so darn hot. I know they're hot, because I've been attending them religiously for the past two years. And I'm not the only one. To show up late to this class is to find myself squeezing into the last corner of the room, feeling shortchanged. Yes, instead of thinking, oh great, there's only 50 minutes of torture left, which is how I usually feel about aerobics classes, I find myself regretting having missed those first 10 minutes, whose oxygen-releasing, endorphin-inducing effects stay with me all day.

Talk of the Locker Room

And afterward, with sweat still flowing and endorphins peaking, I've been privy to the slew of accolades that get exchanged in the ladies' locker room each week, accolades that would make Harbison flush to the roots of his slightly wavy hair, beginning with the fact that women find him universally cute, thanks in part to some very cool ink and a fresh-faced smile. But cuteness alone cannot groupies make, especially when more than a few of said groupies are straight men.

Digging deeper, beyond my own enjoyment of his playlist, which includes everything from Fat Boy Slim to John Jackson, not to mention his dance moves, which mix martial arts with hip-hop grooves and hip and shoulder shimmies, we come to an almost universal appreciation--nay, fear--of what I call Harbison's personal bounce factor. This guy kicks his foot so high you'd swear it was going through the ceiling, then lunges so deep his knee seems to sink through the floor, then hangs in midjump so long he could read five pages of a book before coming down to earth again. They're stunts that make the class shout out stuff like, "You gotta be kidding!"

But neither is Harbison all flash. His devotees describe him with phrases like "high energy," "fun," "motivational," "compassionate" and "respectful."

"The intensity grabs me," says Diane Schwedner, who's been attending Harbison's kick-boe sessions for about a year. "His class requires focus and attention. Then there's the sweat factor, not to mention the sense of success that comes with completing each class and the ensuing strength and presence in my body."

Schwedner pauses, then smiles like she's recalling eating a favorite dessert.

"And it doesn't hurt that he's a charming, lighthearted, handsome young man."

Renee Solano, who's been attending for four years, cites the fun factor. "Plus, it's probably the toughest of any of the workouts here, because it's nonstop," she says. "Michael is energetic, he has tattoos and he seems to be genuinely concerned about his students, real helpful, but not in an intimidating way. He seems to respect women in particular and people in general. And his class has helped my coordination. I'm not as clumsy as I used to be."

Jim Faith, one of several guys who show up as faithfully as all the women, says Harbison's kick-boe class, which he started attending just to supplement a kickboxing class he was taking, is now an addiction.

"I do it because the time is right," he says. "In an hour I can get drenched with sweat. I've had a great workout over a short period of time and then it's done. And Michael's a good guy. Oh, and I like the fact that there's all these women in the class. That's definitely one of the benefits."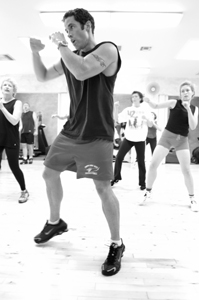 Up in Arms: Harbison has built a hardcore following despite the fact that his class is said to be one of the most intense around. He says he even gets cards from people in his classes telling him how much he's changed their lives.
A Life Less Sedentary
Harbison's energy level is enough to make his trainees wonder, midway through a particularly kick-ass class, if he's been overdoing the Red Bull, but he says it's simply in his genes.
"My energy level is probably thanks to my DNA," he says. "I'm just like my mom, who is a teacher and a leader and can make a small gathering into an energetic humongous party. Even when she's sick or down, she still teaches and no one has a clue that she's not feeling well."
If you're wondering what Harbison's idea of "energetic" is, suffice it to say that he runs four to six miles three to four times a week, lifts weights for an hour four to five times a week and teaches between six and nine classes, all of which adds up to at least 15 hours of kick-ass workouts per week.
A lifelong resident of Santa Cruz and an avid surfer until he got into basketball during high school, Harbison coached that particularly high-vaulting sport at Notre Dame Junior High, where he found that kids listened to him pretty well. Then, at age 19, he was introduced to kick-boe as a fun way to drop some weight.
"It got me into immaculate shape, and Toadal Fitness owner/manager Christophe Bellicio backed me when I said I wanted to give teaching it a try a year later when I turned 20," says Harbison, adding that he chose to teach his class at Toadal Fitness, "because the club is family oriented, and because Christophe has the life I want. He's the biggest humanitarian and by far the kindest man I've ever met. He's compassionate to everyone and he's in the business for the people, not the money. And he's a total father figure. He's been known to kick me around; if I've ever had an ego, he's humbled me quick, reminded me that I'm just a little man, growing up."
Harbison's pleasure in finding a father figure in Bellicio may also explain why he hits it off big time with female participants in his class.
"I was raised by four women--my mom and my three sisters--after my dad passed away when I was real young, and I find women tend to be more compassionate than guys," he explains, adding with a laugh that while he likes the fact that most of the class are female, most male participants in his class feel more than a little intimidated.
"So, I go up to the guys and talk to them and make them think it's more like kickboxing, if that's what I read that they are into. Women are more free-spirited and out to enjoy life than men, who generally seem so dang serious."
What Makes a Guru
To Harbison's mind, what makes a charismatic teacher is having a fun and high-energy personality, keeping the class challenging and not getting hung up on control issues.
"You'll never get your point across by being a dictator," he says. "I never make someone do something they don't want to, but I will challenge you to do something you didn't think you could. I'll make you push a little harder."
His biggest challenge, he says, is to make sure that everyone, male and female, young and old, all feel confident and that they can keep up.
"I'm a people person, I like connecting and if I don't feel that connection with one person, I feel off. Most of the time I'm such a goofball that I don't care what people think of me, but I usually try to do something goofy and crazy, so that they'll relax and won't feel embarrassed," he says. "And if people challenge me--by bouncing higher than me or whatever--that's OK, I welcome that, because I'm not that competitive and I don't have a strong ego."
To make sure he gives people the energy fix they are looking for, Harbison says he usually meditate for 20 minutes before class.
"I see everyone in my head having a fun time and being challenged, so when everyone shows up, I feel 100 percent confident and comfortable, whether they are men, women, kids or grown-ups. And I burn a lot of music. There's not any kind of music that I don't love," says Harbison, who prides himself on never playing the exact same music for more than two weeks.
Nor, he says, does he ever teach the same class twice. "I'm always adding new choreography, either trying it out in my room at home, or in my head before class," he says. "And sometimes when I do a move, I'll see someone alter it, and I'll take that alteration, fix it and slip it in. I also get some of what people call my hip-hoppish jazz moves from going to clubs, having fun and watching what people on the dance floor are doing. The real magic of my class is that it just flows and works perfectly where it's meant to be with no explanation."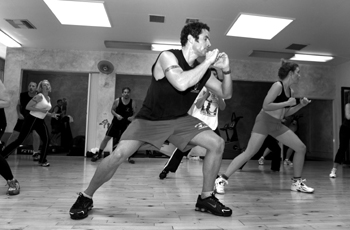 No Repeats: Harbison says one of the secrets to his success is that he never teaches the same class twice.
If You Build Them, They Will Come Back
The proof is in the pudding, as they say, and in Harbison's class this adds up to zero negative feedback.
"And every time I've subbed for another instructor, people have asked when and where I normally teach and followed me," he says.
Harbison even gets cards from people saying he's made an impression on their lives.
"It makes me feel special to touch people that way," he says. "For me, it's all about love and how much it means to me to do that for people. I've been teaching for six years, and I've only taken off about three to six classes."
In face of his spotless attendance record, why does he think many of us have problems starting and/or staying with exercise programs?
"People are too much into school or work, they don't realize how much oxygen they need to do that work well," he says, recommending that people work out three to four days each week minimum.
'They forget how important is it to work out. A lot of times people really want to get fit the easy way, they know where they want to be, but they drop out too quickly, because they're thinking about the superficial part of getting fit, their outside. But if they talk to me before class, they're gonna feel my energy and know that going to class is about your inside. Stopping going is pure laziness."
When asked what he says to encourage people to get and stay fit, Harbison's grins. "What I always tell my sisters, which is, do they want to be happier? Because you'll feel better in every way, and your life will improve at school at work, and in all your relationships. I'd tell them to begin by eating moderately and starting off slow. I ask them, Do you really care about yourself? Because you gotta be selfish to be happy, by taking the time to work out."
[ Santa Cruz | Metroactive Central | Archives ]