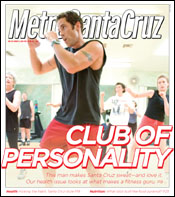 For the Week of
July 28-August 4, 2004
Cover Story: Club of Personality:
This man makes Santa Cruz sweat--and love it. Our health issue looks at what makes a fitness guru.
Kicking It, Santa Cruz Style: Hypnosis? Acupuncture? Past-life recognition? Our reporter said he'd try anything to shake the caffeine habit. He wasn't kidding.
Nutritionally Incorrect: Santa Cruz's Bauman College wants to tear down the food pyramid and make you rethink what it means to eat right.
Nüz: The picketing at Clearwater Court has spurred a lawsuit for business interruption costs.



Rev: This summer's biggest movies seem to be getting all political about cars.



Bourne Again: 'The Bourne Supremacy' is more marketing strategy than movie.



The Rock Show: PJ Harvey.



Preserving the Pasta: Even after its remodeling, Aldo's is all about Italian traditions passed down through the generations.



Turn of the 'Shrew': Danny Scheie returns with Fletcher's Shakespeare-twisting 'The Tamer Tamed.'