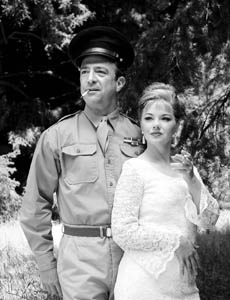 Smokin' Like Chimneys: Robertson Dean as Petruchio and Blaire Chandler as Maria appear to be deep in flavor country in John Fletcher's 'The Tamer Tamed.'

Turn of the 'Shrew'

Danny Scheie returns with Fletcher's Shakespeare-twisting 'The Tamer Tamed'

By Rob Pratt

There's a new generation coming of age. It's a generation of young people ready to find new ways of negotiating relationships between men and women. It's a generation of artists and thinkers ready to seek new forms of expression and thought.

Such is director Danny Scheie's conception of the world of The Tamer Tamed, Shakespeare Santa Cruz's third offering of the summer 2004 season, which previews Sunday and opens Aug. 6. Written during Shakespeare's lifetime by a younger contemporary, John Fletcher, The Tamer Tamed is both a sequel to Shakespeare's The Taming of the Shrew and a response from a talented young playwright to his mentor.

"Fletcher's like the next-generation Shakespeare," Scheie says. "At the end of his career, Shakespeare started collaborating with other people. Fletcher was coming into his own, and Shakespeare was his mentor. Even though Fletcher respects Shakespeare, he thinks he's a fuddy-duddy."

And, says Scheie, he's not afraid to say so.

"In The Tamer Tamed, Fletcher is saying, 'Look at me! My play is funnier and sexier, and my play is more progressive,'" Scheie says. "'Your characters exist in an ether of abstraction about love and sex, but mine are coarse and salty and funny.'"

For the Shakespeare Santa Cruz production, Scheie sets the play in the late 1960s--another time when a new generation emerged with a new sensibility about relationships between the sexes and with new forms of expression. As Fletcher drew inspiration for The Tamer Tamed from Shakespeare's The Taming of the Shrew, which was presented 20 years before Fletcher's sequel debuted, Scheie has looked to director Tim Ocel's staging of Shrew.

"I really like what Tim Ocel does--he really goes for the dark [themes] in his shows," Scheie says. "I wanted this Tamer Tamed to be a sequel to his Shrew. His show is set in 1947, and so this one is 20 years later, at the cusp of women's liberation. The clothes are before the hippie movement--bourgeois, a look I remember from when I was a little boy."

Burning bras and consciousness-raising "was a few years later than that," Scheie continues. "Women [in The Tamer Tamed] weren't responding to something that's already out there--it spreads from this one woman. It's like Rosa Parks taking action on her own. They weren't hopping mad from watching this on TV."

Though pairing a production of Shakespeare's The Taming of the Shrew with a production of Fletcher's sequel seems a natural double-feature, until recently the two hadn't been presented together by a major theater company for nearly 500 years--since shortly after the time of Fletcher's death in 1625. The Royal Shakespeare Company revived Fletcher's Tamer in repertory with Shrew last year, earning rave reviews for both shows and rekindling interest in the two plays' starkly contrasting views of the marriage contract. The Royal Shakespeare Company brought the plays to Washington, D.C.'s Kennedy Center late last year.

In The Taming of the Shrew, the character of Petruchio berates, starves and confines Katherine, an unruly woman he wishes to marry for her dowry. In The Tamer Tamed, Petruchio marries a new woman, Maria, after Katherine's untimely death, which is never explained in the play. Maria quickly decides to make a move to gain the upper hand in the relationship, to tame the famed woman-tamer.

"Withholding sex is an extremely powerful tool," Scheie says of Maria's tactic. "At least, it gets someone to listen. Withholding sex and [inciting] jealousy are enough to tame anyone. Sex is often the scaffolding that we build relationships on, and the play says that, when you love someone, you work all these things out. [With Petruchio and Maria], this is what they do ... there is an element of sport and conquest in the way they fight with each other."

Scheie, who has earned both raves and criticism for gender-bending Shakespeare's characters in shows he has directed during seasons past, is quick to point out how the themes of Fletcher's play may provide commentary of the issue of same-sex marriage.

"Everything Maria does after the marriage starts to question the marriage contract," Sheie says. "She starts to look at communal property--and that's what straight marriage has always been on the books for. That's what gay people are not allowed to have, and that's at the forefront of the issue of gay marriage."
---
The Tamer Tamed previews Friday, July 30, at the Nickelodeon, 210 Lincoln St., Santa Cruz; the play runs Aug. 6-29 at the outdoor Glen, UCSC. Tickets are $10-$40; call 831.459.2159 or go to www.shakespearesantacruz.com.
---
[ Santa Cruz | Metroactive Central | Archives ]