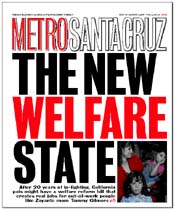 For the Week of
July 31-Aug. 6
Cover:
The New Welfare State
After 20 years of infighting, California pols might have a welfare reform bill that creates real jobs for out-of-work people.
A New Job Description: County welfare agencies already have shifted their focus to provide education, job training and employment.
Welfare as They Know it: A reluctant welfare mom, a lifelong welfare recipient and a welfare adult without kids share their view from the inside of the System.



Oh, Happy Feet: Jazzed-up Cabrillo Music Festival asks local performance art troupe to dance.
Notes From the Underground: Vets Hall veterans and new recruits take downtown by storm.



Night Howl: Peter Gault leads a psycho-sexual trip through the body and soul.



Dukes of Hazard: Children of the powerful find laughs, intrigue and passion in Shakespeare's magic forest.



Bow Wow! Chow: H' Diggity's spices up Capitola Village's beach scene.