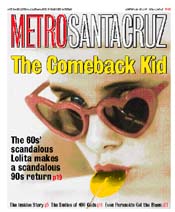 For the Week of
August 21-27
Cover: The Comeback Kid
The 60s' scandalous Lolita makes a scandalous 90s return.
News: Hooked on Colonics
Strict diets and cleansing regimes can be unhealthy.



The Smiles of 400 Gods: Mexico's other great agave derivative--smoky, powerful mezcal--takes its rightful place as a premium sipping liquor. Christina Waters samples rustic handmade mezcals from remote Oaxacan villages.
Toast of the Coast: As more and more vintners chart new ground, the good word is spreading about Central California wines.



Talking Pictures: Famed conspiracy collector Jonathan Vankin analyzes the new paranoia thriller Conspiracy Theory.
The Way They Were: Mike Leigh looks back --but not in anger--at the old England in Career Girls. Plus Richard von Busack interviews the two stars of the movie, Katrin Cartlidge and Lynda Steadman.



Notes From the Underground: Local promoters revive dead venues.



Night Howl: Local women artists, storytellers and musicians bring out their creative juices to help save downtown SC's Actors' Theatre.