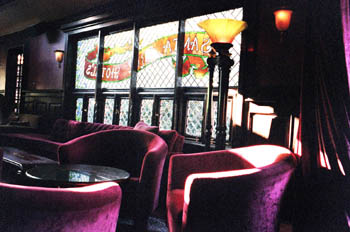 Photograph by Adam Wright

Black and White and Red All Over: If this photograph were in color, it would be really, really red.

Turn On the Red Light

Red's décor may be monochromatic, but its menu has a full-spectrum of enticing options

By Selene Latigo

The end of this week brought some very exciting news, and by Friday it was time to honor the occasion with our friend Jessica, the mom-to-be. We all had a lot to do, so by the time we were ready, it was kind of late to eat, by Santa Cruz standards, that is. The list of celebratory dining destinations is somewhat limited once you hit 9pm in this town, but we all agreed that the young late-night hot spot, Red, would hopefully fit the bill for a classy atmosphere and quality dinner.

Stepping into the darkened side entrance, we were greeted by a steep red staircase that leads up to the plush upstairs interior. Everything about Red is red, from the intricate stained glass skylight well and bar décor to the thick carpeting and velvet drapes. Even our pint-sized water glasses were made of sturdy red glass. Cushy low couches are scattered around a large two-way fireplace and tucked into corner nooks. The bar gets very crowded as the night ticks on, and even when we arrived, early for bar time, both the lounge area and dining area were packed. Luckily there was one table vacant and we took our seats.

My dirty Kettle One martini came chilled with a twist and two olives ($7.50), while Dave's Windmer Hefeweizen ($4.75) arrived in an elegant tall and narrow beer glass. The wine list is somewhat brief and lacking inspiration, but priced well with a good range of varietals.

Our server told us the four nightly specials, all with tempting descriptions (but failed to mention the soups). We proceeded to order the chef's choice "Big Salad" ($9, available vegan or vegetarian) and one of the several pizzetta selections. We snacked on the chewy chunks of fresh bread with balsamic and olive oil while we waited for the starters. The salad was the first to arrive, with an array of heaping veggies. The well balanced balsamic dressing came on the side so as not to mar the beautiful presentation of the asparagus, green beans, red pepper, walnuts, and summer squash on mixed greens with finely grated Asiago cheese. Next came the small, round pizzetta, topped with roasted red pepper, eggplant, basil and buffalo mozzarella ($8). Although the grilled crust was underdone, the summer mix of flavors was pure and true.

After a long wait full of apologies and a couple of complimentary items from our server due to some kitchen glitches, she brought out our entrees. Although the dark lighting provided an enjoyable ambience, it was quite hard to see what was on our plates. Our red candle became our guide to visually participating in this meal.

My purple potato gnocci with portobello mushroom cream sauce ($14) was rich, earthy and sweet. The gnocci were shaped like mushroom caps, and perhaps because of the increased handling involved in creating this shape they were a bit toothsome. We all loved the sauce and eagerly sopped up its perfectly seasoned decadence with the extra bread our server intuitively delivered alongside this dish.

Jessica's pecan-encrusted rack of lamb with risotto ($17) was a large portion of medium-cooked lamb over a pile of tangy ricelike risotto. She also ordered a side of wilted greens ($4) and they complemented the dish with their vibrant and peppery moistness.

The sirloin steak special with roasted potatoes and seasonal vegetables ($17) was Dave's choice. The thick and savory steak was perfectly cooked to order, medium-rare, as were the creamy roasted potato wedges. The summer squash, green beans and cherry tomatoes were crisp and fresh, but undersalted.

Of the two desserts we ordered, we preferred the lemon blueberry bread pudding with Limoncello sauce ($7). The pudding was full of home-style custard flavor, with lemony sauce, whipped cream and fresh blueberries, bringing this summer-influenced meal to a sweet close.

Our late-night dinner was sophisticated and satisfying despite the wait. Red has an abundance to offer, using primarily organic and seasonal ingredients to create an exciting list of enticing plates to share over drinks or for a full-course meal. The classy loungelike surroundings feel different from anywhere else in town, and it is a suitable destination for all levels of celebration.
---
Red
ADDRESS: 200 Locust St., Santa Cruz
PHONE: 831.425.1913
HOURS: Daily 5pm–1am
PRICE: $5–$17
---
[ Santa Cruz | Metroactive Central | Archives ]