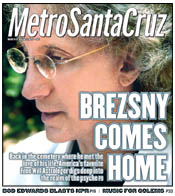 For the Week of
August 24-31, 2005
Cover Story: Brezsny Comes Home:
Back in the cemetary where he met the love of his life, America's favorite Free Will Astrologer digs deep into the realm of the psyche.
Senior Correspondent: A conversation with Bob Edwards about public radio, private enterprise and the future of broadcast journalism.
Nüz: Metro Santa Cruz Endorses Measure X ; For the Turnstiles; First in Print Media Division.



Rev: Novella Sells Out: Though the couple opted to sleep on the wind-swept beach instead of inside the vehicle, they certainly could have stretched out in the Highlander.



Children of the Revolution: A trio of young Germans won't get fooled again in 'The Edukators.'
Very Grim Indeed: Terry Gilliam stoops to 'Van Helsing' depths in sodden fantasy 'The Brothers Grimm.'



A Different Kind of Golem: Daniel Hoffman and Davka give sound to a classic silent film depicting an ancient Jewish legend.
The Rock Show: Albino; Les Claypool; Rick Walker; Dick Dale.



Logic of the Bizarre: Aimee Bender's stories in 'Willful Creatures' take logical detours through bizarre landscapes.



Turn on the Red Light: Red's décor may be monochromatic, but its menu has a full-spectrum of enticing options.
Copyright © Metro Publishing Inc. Maintained by Boulevards New Media.