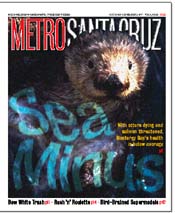 For the Week of
Aug. 28-Sept. 3
Cover: Sea Minus
With otters dying and salmon threatened, Monterey Bay's health is below average.



Seacliff Sensitivity: A positive dining experience proves that Severino's offers more than just great lounge action.



Heating Up the Nice: Redwoods ignite with passionate rhythms as the Valley of the Moon Scottish Fiddling School prepares for its grand concert.
Rush 'n' Roulette: Anti-liberal Limbaugh is a rockin' radio pirate.
Notes From the Underground: Homo-core dreamdates hit SC with a vengeance.



Saving the Devil's Spawn: The hills of Santa Cruz County are alive with the sounds of bright-plumed peacocks--gorgeous, wondrous, exotic and extremely annoying.
Night Howl: Fabulous music, dance and food come together for a gastronomic night of fundraising for the Santa Cruz Dance Gallery.