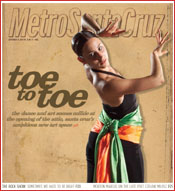 For the Week of
September 8-15, 2004
Cover Story: Toe to Toe:
The dance and art scenes collide at the opening of the Attic, Santa Cruz's ambitious new art space.
Nüz: After thieves make off with Munch's 'The Scream,' Santa Cruz pranksters do the same with the Blue Lagoon's copy of 'The Scream.'



Rev: We had discovered that relying on our cars to get around had reproduced a too-familiar world.



Reese's Piece: Thackeray's 'Vanity Fair' is as sharp is Reese Witherspoon's impertinent heroine.
Gender Is The Night: Spike Lee, channeling Norman Mailer, flaunts his sexual politics in 'She Hate Me.'



The Rock Show: The Mediterranean; Club Caution.



Milosz in Memory: In his memoir, 'Striking Through the Masks,' a Santa Cruz writer recalls his encounters with poet Czeslaw Milosz.



An Elegy for Little Dishes: Our writer mourns the loss of the tapas experience in Santa Cruz.